Fun Nozawa Weekend!
Base at top: 110 cm
Temp at Top: -2 Degree
Base at Uenotaira station: 75 cm
New snow since close: 0cm
Weather: Blue skies
What a beautiful weekend on the slopes! Most lifts have now opened down to Hikage so there were plenty of slopes to shred. Here is the map showing the open slopes highlighted orange… 
If you want to find out more then please check out the Nozawa Onsen Ski Resort Info
Yesterday we had a beautiful bluebird sky and it was free skiing for all the kids so it was the perfect day for the whole family.  
Every third Sunday of the month is free skiing for kids!
These dates fall on:
18 Dec
15 Jan
19 Feb
19 March
So put these dates in your diary as they may be on a day that you and your family are in Nozawa! Remember kids aged 5 and under ski free all the time!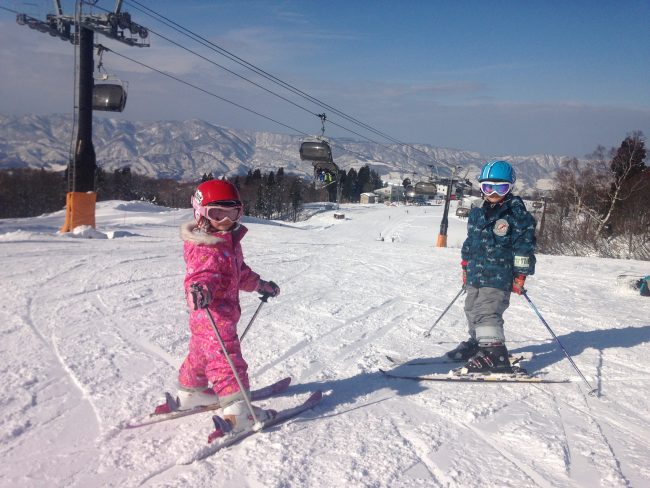 Saturday there was free sake and hot soup at the top of the Nagasaka Gondola Station on the slopes in an opening celebration for the ski season, and last night the Neo Bar had their opening party so it has been a weekend full of fun events.
We have just recieved notice that there is a grand opening party for a new Bar in town called Bar Cross Nozawa which is located where Playspot used to be, just down the road from Villa Nozawa! So that is tomorrow night 20 December starting from 6pm. We would love to see you there!
Nothing beats a Nozawa Weekend!
As much as we love bluebird skies, it looks like there are more than we would like coming over the next few days so the conditions on the slopes could get a little warm. Freezing level is going up quite high and we should be expecting a bit of rain before it turns into snow later into the week.