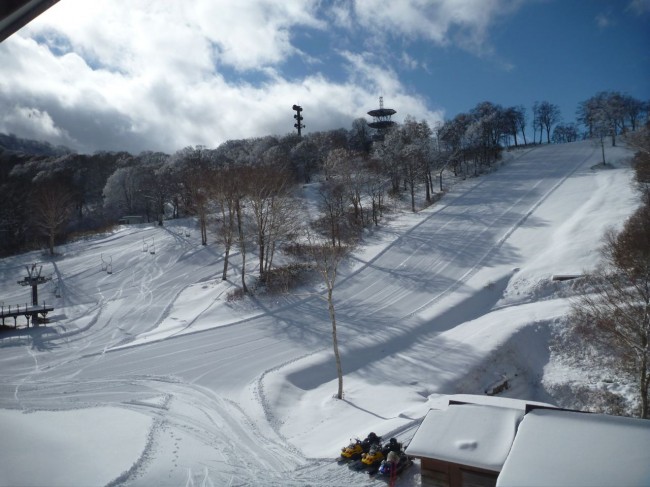 Nozawa Onsen Ski Resort has been open for 4 days now since December 11th. Early days but there have been some fun conditions up top at Yamabiko and down to Uenotaira. Great to get an earlier start this season and hope it means we are in for a good season ahead
Was getting a bit icy yesterday morning with a cold start and bluebird conditions.  So some new snow will be most welcome and looks like it is on the way. Forecasts are showing that Winter should take a firm grip on the resort over the next few days with freezing levels dropping to below sea level and good snow falls predicted for most of the week.
Today sees the reopening of Furusato no Yu formally known as Kuahaus. It had been getting a bit tired so the major renovation will be exciting. It has one of the only outdoor onsens in town and should prove to be popular. Entry is 500 Yen for Adults and 250 Yen for children.
The Resort Shuttle bus will also start on Saturday December 17th delivering guests on a loop around the village and up to the Nagasaka Gondola. Departs almost every 30 minutes and every 20 minutes at the peak times.
So looking like a good weekend ahead with over 30cm forecast from tonight into Saturday morning so hope to see you all on the slopes.
Apologies has been a few days between posts we have undertaken some pretty big renovations on both Lodge Nagano and Villa Nozawa in the last few weeks. Both places looking very nice and will post some photos soon