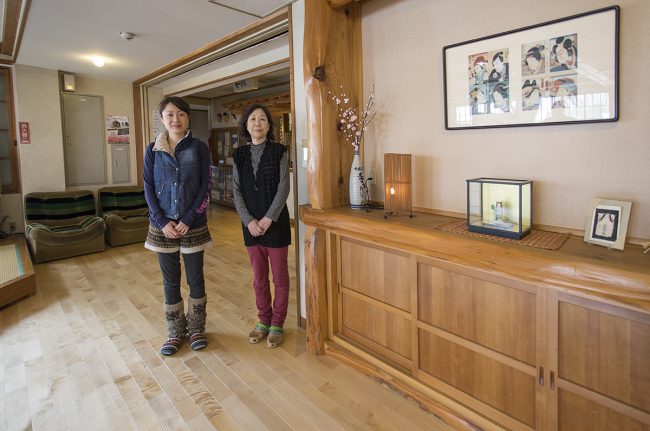 The Lodge of the week is Furusato Lodge – a spacious family run Lodge just near the slopes.
Furusato Lodge or Resort House Furusato has been run by the Nishikata family for many years. There are currently 3 generations of the family living and working in the Lodge. It is one of the bigger ones in the Nakao area with 21 rooms and a mix of with and without bathroom. There are some western style but most are beautiful Japanese style Tatami rooms.
The lodge is pretty much ski in ski out being only 50m to the Karasawa Chairlifts, which connect you across to the main Nagasaka Gondola or a great little slope at Karasawa to enjoy. A nice flat stoll to the Village, and some great little restaurants nearby.
The whole family is involved in running the lodge, Mutsuko san the mother is the cog that keeps it all going and is well supported by daughter Fumiko san who can speak some English. The son is a great chef and works hard in the kitchen to make some great food. Breakfast is included and can do dinner on request. The father Nishikata san can often be seen by the fireplace in the evenings dishing out his home made Doburoku Sake, a highlight for many guests.
Spacious common areas and ski room, Japanese style Bath or ofuro and terrific hospitality. It is a large lodge but tends to fill quickly as they get a lot of repeat guests ever year. So come up and sample the sake and some great Nozawa style hospitality
Here is a link to look and book
Furusato Lodge Nozawa Onsen