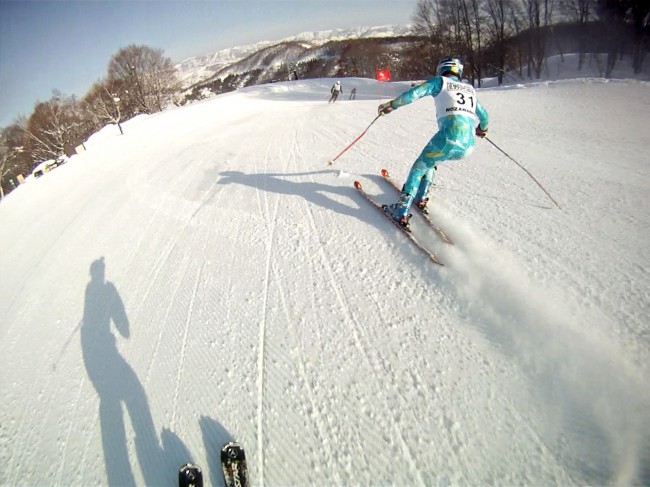 Base up top: 440 cm    Temp Top; -4 Degrees
Base at bottom; 225 cm
New Snow since close: 0 cm
Weather; Clear
The world renowned Nozawa Onsen top to bottom downhill race took off during the early hours of this morning with a scintillating field of contenders flooding the village from all areas of the globe.
With firm and fast snow conditions, the field made the short work of the one hundred meters dash to the strap in point at the top of the slopes. Light winds established a quick split of skiers and boarders and it was clear those who put much effort in their waxing held a high advantage in this regard. The lightning fast velocity attained from the top half of the icy course resulted in the first major collisions at the top of the forest trail as skiers were compressed in the high speed right hand corner. In one instance, bindings were ripped clean off the skis of a downed rider. Flatter gradients during the middle segments ensured those with the longest skis took off at the expense of some spectacular wipeouts on the many hairpin bends intervening the field.
During the final high speed straights it was clear who would clinch victory with Gabriel Sutter of Switzerland making a break from the leaders and crossing the line with a significant margin between second place. Congratulations to Gabriel who has taken out the coveted trophy for the third year running.