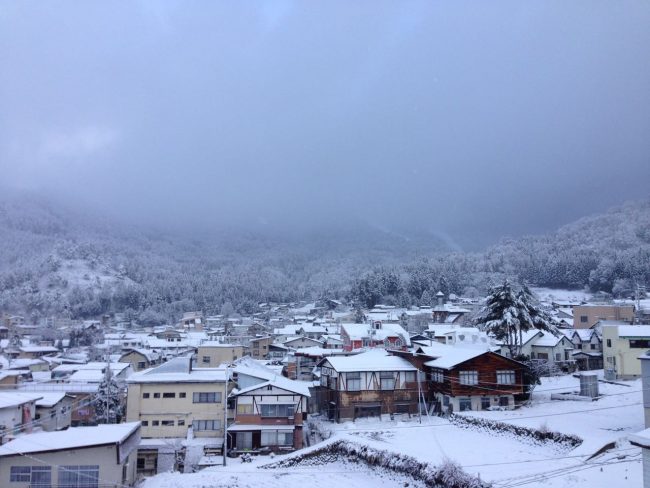 Great start Nozawa season.
Snowy Saturday morning in Nozawa, another magic foot overnight!
Base at top: 75 cm
Temp at Top: -5 Degrees
Base at Uenotaira station: 60 cm
New snow since close: 30cm
Weather: Snowing!
Was woken up by the sound of my neighbor scraping snow of his driveway this morning so figured we must have got some snow overnight.
By the time I got out of the warmth of the futon the village was covered in a nice white blanket. Coming down pretty consistently now and should continue all weekend long and get a bit heavier into tomorrow. Temps are chilly with the freezing level down below the village. The top slopes got a whole 30cm of fresh snow which is adding nicely to the base.
Check out this video shot from the roof of Nozawa Central Apartments Snow Cam for 10th of December in Nozawa
Great start Nozawa Season and to see on our first weekend of the season! More runs up at Yamabiko and the very top Yamabiko 4 chair also opening today so more access to some great terrain. Still almost no one here so come on up and enjoy the powder! Yesterday was pretty powdery up top too and only about 80 people there enjoying it. Today will be even better with more base and 30cm of fresh snow it should be flying above the boots this morning for sure. So get up there!
Lifts open today
Nagasaka Gondola 8;40am to 15;30
Yamabiko 2 Quad Chair 8;55am to15;40
Yamabiko 4 Chair lift 9;00am to 15;30
Uenotaira 4 Lift 9;00am to 15;40
Courses Open
Yamabiko A,C and D Course – Length 1250m (Intermediate)
Uenotaira Course – Length 2000m (Beginner)
Still lots of beds available up until just after Christmas so drop us a mail to stay@nozawaholidays.com or jump in the site to book; Nozawa Onsen Accommodation