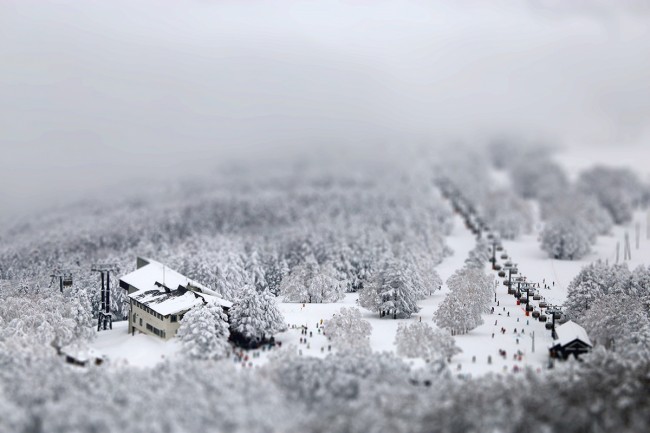 Base up top: 340 cm    Temp Top; -5 Degrees
Base at bottom; 180 cm
New Snow since close: 0 cm
Weather; Sunny
A classic bluebird morning in Nozawa. A slight haze is enveloping the lower valleys but the peaks are soaring through into a cloudless crystalline atmosphere. The on piste skiing will be sensational this morning with fast ultra smooth groomers. Later in the afternoon all areas but Yamabiko will become slightly slushy with warming temperatures giving way to soft and playful riding. Later in the day the park and pipe will be good fun. Off piste conditions are variable and packed depending on aspect.
Yesterday saw heavily isolated light snow showers continue for much of the morning before gradually decreasing during the late afternoon. A moderate breeze blew in some nice stashes which collected in leeward areas for the last runs. The off piste skiing was ok but really it was a day for the groomed runs which remained very smooth well into the afternoon. It was really great to let the skis and boards run with the knowledge you wouldn't get thrown off by unexpected ruts and bumps. The Yamabiko groomers were especially nice.
According to weather predictions we are at the beginning of a brief spike into spring like temperatures with the freezing level rising to around 2000m tomorrow. Unfortunately this may be accompanied by some precipitation tomorrow afternoon and night. But luckily this warm spell is only short lived with temperatures nosediving again on Friday into the weekend. All next week we should expect freezing winter conditions in combination with snowfalls, heaviest over the weekend and mid next week.