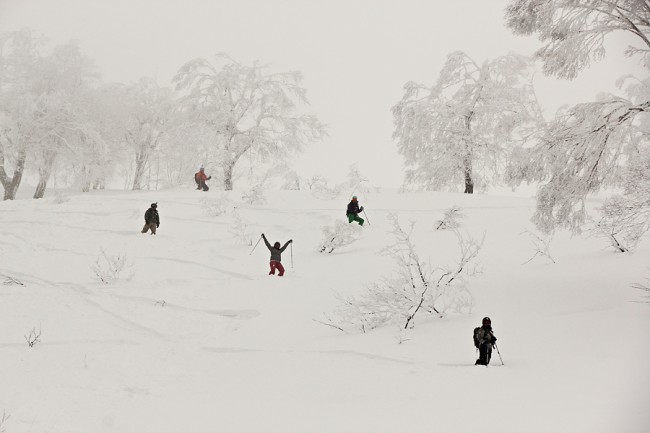 Base up top: 320cm        Temp Top; -14 Degrees
Base at bottom: 175cm
New Snow since close: 50cm
Weather; Snow, heavy at times
It looks like we have another day of fresh Japan powder here in Nozawa Onsen. As the last lifts were spinning yesterday afternoon we had a sudden increase of intense snowfall which lasted most of the night delivering 50cm of fresh to the slopes! Looking out the window; we have heavy snow continuing and deep snow on the balcony. Wind should be stronger today with 40km/h and higher gusts expected later this afternoon.
The powder hounds were in full force yesterday with most of the well known haunts becoming tracked by the end of the day. Snow quality was very good indeed, but visibility was somewhat varied as thick clouds moved about the peaks. Overall, another quality day of riding, a seemingly typical trend recently.
We should see snow continue for the rest of today before a clearing trend later tonight. In the following days we should expect periods of sun, mostly in the mornings, followed by afternoon snow showers. All-in-all, variable weather is expected. The kind of forecast that is never 100%.