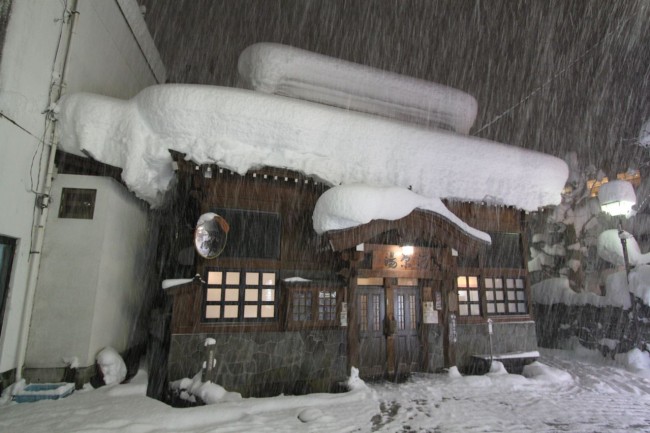 Base up top: 300 cm                  Temperature; -8 Degrees
Base at bottom; 200 cm
New Snow: 30 cm
Wooo! We have dived into the 300cm mark in Nozawa Onsen officially today. Happened a little quicker than I thought as yet again last night we received close to 30cm on the slopes!
It seems like a given to wake up with a solid dump of new snow on the doorstep. Checked back a few years for base at around this time and the average has been about 190cm so we are well above that now. 2010 we were at similar levels and in 2006 we had a whopping 475cm!
Today is relatively clear compared to the past few days, but still snowing! Just lightly in the village at the moment but snow clouds are still hovering.
Yesterday on the mountain was another great day and I am running out of superlatives to describe it. 30cm of fresh and it snowed pretty heavy most of the day.
We should be in for snow showers over the next few days then another good dump starting Tuesday night. The snow is deep so choose your line carefully and take a big breath!
We did alot of renovations over the off season on both Lodge Nagano and Villa Nozawa. There has been so much snow to report have not had a chance to show you much of what has been done. Many repeat customers have been very impressed with the changes. Especillay the Fire Places in both lodges, has made the lodges even cosier and a great place to get together at the end of the day and share a drink and a chat about the adventures on the slopes. Will share a few photos with you over the coming days while we have a break in the snow!