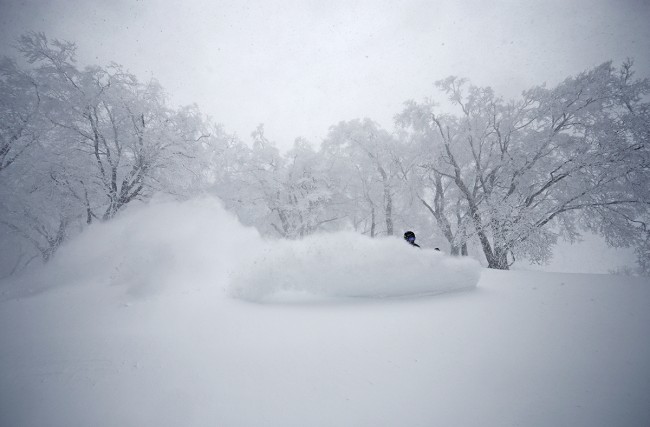 Base up top: 360 cm    Temp Top; -5 Degrees
Base at bottom; 145 cm
New Snow since close: 25 cm
Weather; Heavy snow
Its been absolutely puking all day in Nozawa Onsen. Heavy snow this morning intensified throughout the afternoon refreshing the cover and providing some great deep powder lines for those who braved the cold and windy conditions. Through the trees was very nice with fresh tracks all day long. It was snowing so hard in the afternoon the lines ridden only a few hours earlier had completely filled in. Crowds were minimal, one definite benefit for these late season dumps.
Yesterday was nothing to write home above with rain falling for most of the day. Moving on..
According to the forecast we should see moderate snowfalls continue tonight which should provide an additional 20cm or so to the 50cm that has fallen in the past 24 hours. Snowfalls will continue tomorrow but become isolated as the day wears on. A clearing trend is forecast for Sunday with bluebird conditions expected. Further ahead we should see a number clear days with moderately warm temperatures. Good spring riding conditions.