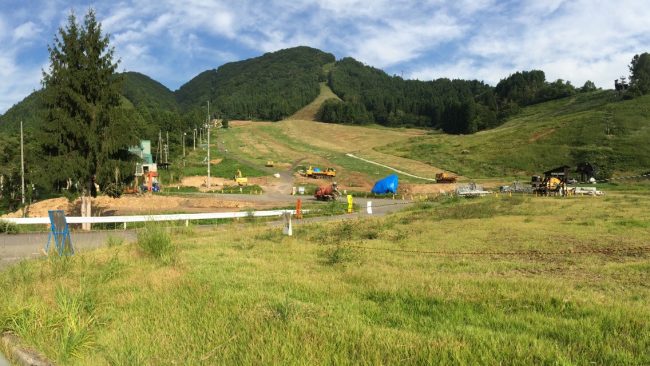 New Hikage lift in Nozawa under construction
Work has started to install the new lift running up the length of the Hikage slope replacing the old Hikage 2nd A and B lifts.
Should be ready in plenty of time for this coming winter in Nozawa. Looks like will be going in a similar location but will improve the on loading, for any that remember the base of the lift was on a small mound so needed to ski up to get on to it. Will also be a much faster lift to get you to the top of the bowl.
Hikage means shade but the slope, which faces fairly west gets a decent amount of sun. It was the original main base for the resort before Nagasaka Gondola was built in the 90's. There was a great old wooden building there that was the main base it was also upgraded in the early 90's for the Interski Conference in 1995. Which was a great event hosting skiers from around the world to show off their technical skill.
Hikage is always a popular slope with Ski Instructors in the afternoons to hone their skills, as it is a perfect pitch and a good place to be seen. The Kids Park is also located at the base and a fun set up for kids of all ages with tube and sled rides, jumping castle, magic carpet and lots of swings.
If want to know a bit more about any of the runs or slopes in Nozawa here is a handy link to help you get in the groove for your upcoming trip
https://www.nozawaholidays.com/ski-resort/course-information/
Look forward to seeing you on the slopes in Nozawa.