New Nishio Cafe Nozawa
A new entrant on the Cafe scene in Nozawa is Nishio Cafe down near the Nakao Bus Terminal. It is a bit of an interesting one too. Run by a lovely older couple who have settled in Nozawa from Nagoya. They did however bring the Nagoya Cafe style with them and it is an interesting twist.
Basically you get a free breakfast when you order a drink so it is an amazing deal. This style of menu actually originated in Ichinomiya which is between Nagoya and Gifu, I used to live nearby there and it is a nice part of the country. No skiing though but not far to the Gifu resorts of Dynaland and Washigatake.
Anyway I digress 🙂 Ichinomiya is famous for its textile industry. Because the textile machines were too noisy, people in Ichinomiya preferred to talk business at a cafe, which usually took a long time.
For this reason, the smart cafe owners began to offer eggs and peanuts for free at that time. As time passed by, it became the morning service we know now. The guys at Nishio are following in the tradition.
New Nishio Cafe Nozawa
So basically you order a Coffee or Tea or one of the other drinks on the menu and it comes with a breakfast like snack. The choices the day we went were
Menu Nishio
Onigiris and pickles
Eggs and Bread Rolls
Sausage and Bread Rolls
The drink only sets you back about 450 yen from memory so including the meal is a terrific deal and a good way to start the day. Just don't go expecting Melbourne style coffee. It is Japanese black coffee and green or black tea. Quite walk from town down past the Rainbow supermarket on the left, set back off the main drag.
It was newly built just before this season so is beautiful inside and the fire place is a great way to warm up after your walk. It was put in there as is near the Nakao bus terminal and they were hoping to catch the guests arriving or leaving on the buses.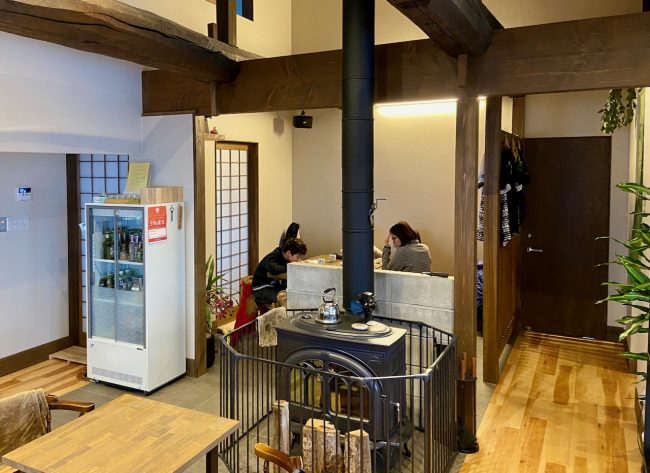 A welcome addition to the Nozawa food and drink line up and well worth a walk on a quiet day off the slopes. Still for one of the best coffees in town hard to beat Mt Dock Gondola Cafe right at the base of the main Nagasaka Gondola Cafe Nozawa Onsen
Check it and more great places to eat and drink in Nozawa in our handy guide Nozawa Onsen Guide