Firstly, we'd like to say a huge congratulations to Mia and Jeremy on their marriage which took place yesterday on our mountain! They certainly picked the right day for it. Heavy snow was falling throughout the whole day but that didn't stop them one bit. We wish you the very best for the future and hope to see you in Nozawa again!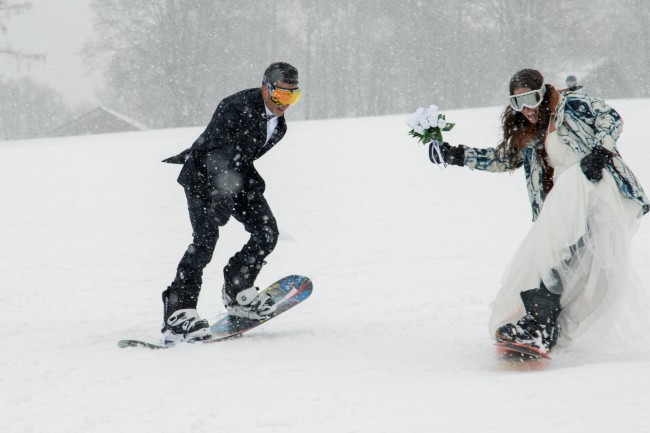 Now, onto the snow report.
Base at top: 140cm
Temp at Top: -8 Degrees
Base at Uenotaira: 70cm
New Snow since close: 5 cm
Weather:cloudy with possible snow. Very mild winds and fairly cold temperatures.
With a few centimetres of fresh on the ground, we're happy to say that winter is back in action. Light snow flurries should be falling on and off throughout the day, possibly becoming heavier in the afternoon. Right now the skies are looking fairly cloudy though visibility is good. Temperatures are nice and cold so the snow that fell yesterday should still be nice and fresh. The best snow can be found up top, although the pistes were nice and fast right down to the village yesterday.
Temperatures should stay cold until the end of the week, before gradually warming up throughout next week. We're expecting some light snow over these coming colder days, hopefully keeping the pistes nice and fresh. Winds will stay very mild throughout the week so those cold chairlift rides won't be an issue!