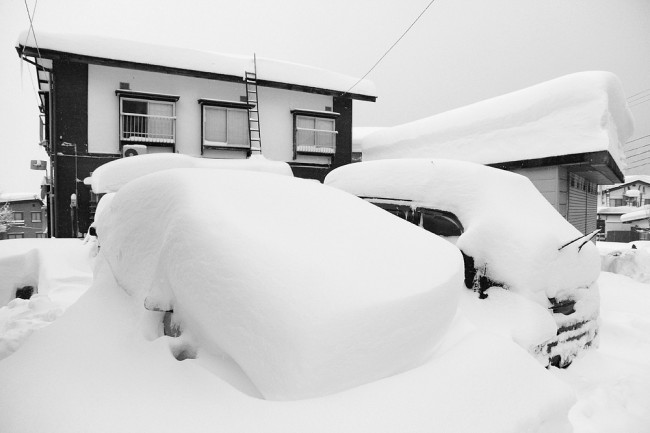 Base up top:  275cm        Temp Top;  -10 Degrees
Base at bottom;  170cm
New Snow since close:  60cm
Weather; Moderate snow
After yesterdays dump the snow has continued overnight delivering an additional 60cm of powder, much to the delight of punters. This sorely needed top up has returned Nozawa Onsen to the magical winter wonderland that we all know and love, with seemingly limitless fresh lines and many buried cars.
At the moment in Nozawa we have cold temperatures and continued snow falls albeit at a lesser intensity in comparison with the last 36 hours. There is also a bit of wind about today, but it is by no means strong.
The Japanese new years holiday has finished and with most of the Japanese guest returning home the resort is markedly quieter. There should be few lift lines on the mountain today!
Snow showers should continue for the rest of the day before a return to clear weather. It should be a brilliant day on the mountain tomorrow with clear sunny weather, cold temps and very light winds forecast.
Looking further ahead, we should see some more snow showers passing through the region on sunday.