Nozawa Onsen Food – Eat Fresh
Fields of Greens in Nozawa Onsen
Nozawa Onsen is not only a ski village – it is also a thriving farming community in the off-season.
The farmers in the region grow an abundance of fruit and vegetables including the famous Nozawa na (a Japanese leaf vegetable that is often pickled),  the vegetable patches are scattered throughout the village and on the lower slopes.  If you arrive early in the season, you can see the vegetables growing before the snow covers them for the winter.
Most of the rice you eat when in Nozawa was harvested in Nozawa Onsen and it is well known as being some of the most delicious in Japan due to the great soil and the fresh mountain water that runs across the rice fields. Many of the farmers them work as Lifties in the winter when the snow has covered their crops. So they are the smiling, seat sweeping legends that greet you as you get lifted up for another run!
Nozawa Onsen Food – Restaurant, Bar and Cafe Guide
There are over 40 amazing restaurants in the village that use the local produce and there are many fantastic dining options to indulge in during your stay in Nozawa Onsen.
Here is a great link to check out most of them
Nozawa Onsen Restaurant, Bar and Cafe Guide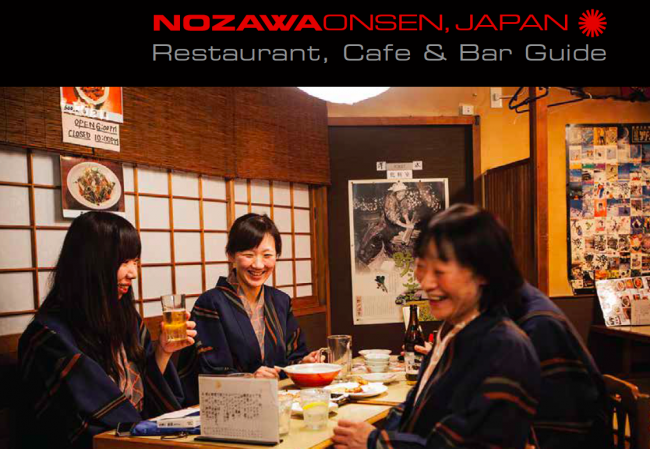 There is something to suit every taste from Sushi to Soba, Okonomiyai to Onigiri and lots in between.
Some of the locally run lodges  also cater for visitors with amazing set menu's –  our friendly staff will be able to give you more information prior to arrival or when you are in Nozawa Onsen
You can also grab some quick and easy snacks like the famous " Oyaki" or the steamed buns from St Antons on the main street, "Takoyaki" or Octopus Balls and lots of other delicious treats as you wander the streets of Nozawa.
The apple shop in the centre of the village is an experience in itself – delicious apples, some as big as your head! Mandarins are also in abundance in winter – sweet and juicy and a great snack on the run!
If you are up early in the morning or wandering in the village in the late afternoon, you may be lucky to see some of the local villagers cooking their vegetables or eggs in the Ogama onsen – the main cooking onsen in the village.  Onsen eggs are similar to boiled eggs but softer as they are boiled at lower temperatures for a longer time and they are amazing by themselves or in noodles or rice.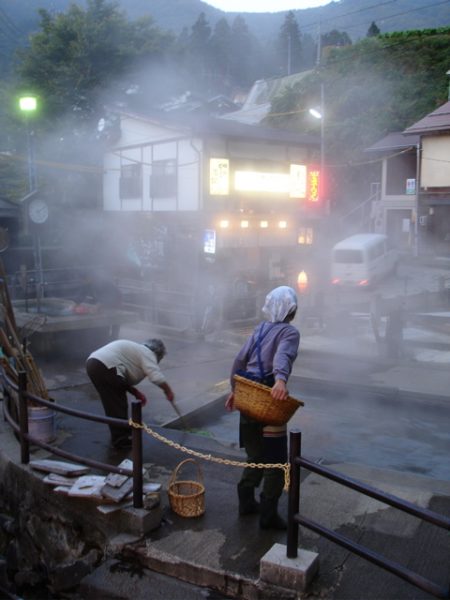 Eating Fresh in Nozawa Onsen is great value!
Eating is an experience in Japan and meals are inexpensive – you can have a fantastic meal for as little as ¥1,000 or approximately $AUD 12.
A few words you can use when dining in Japan
Oishi – delicious
Kanpai – cheers
Arigato – thanks
Kudasai – please
Ittadakimasu – Bon Apetit
Happy eating!!!