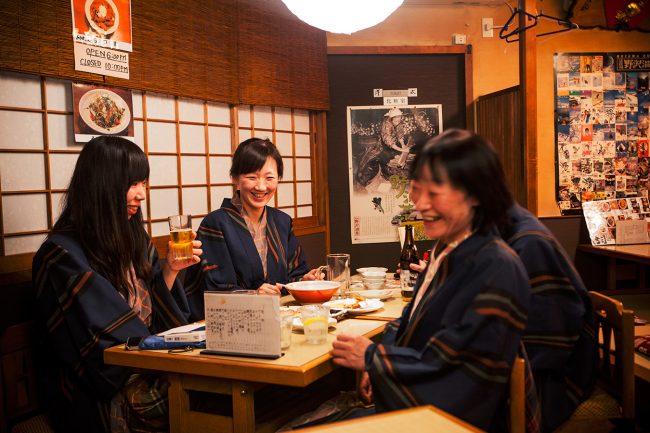 Nozawa Onsen Izakaya
The Japanese Izakaya or Tavern is a huge part of the Japanese eating and drinking culture. The Izakaya originated from Sake Shops in the 16th Century where customers could stay and drink the night away.
They are often little tucked away shops and can generally be recognized by the red lantern hanging outside. Which indicates a cheap place to eat and drink and can be compared to a small pub in other countries.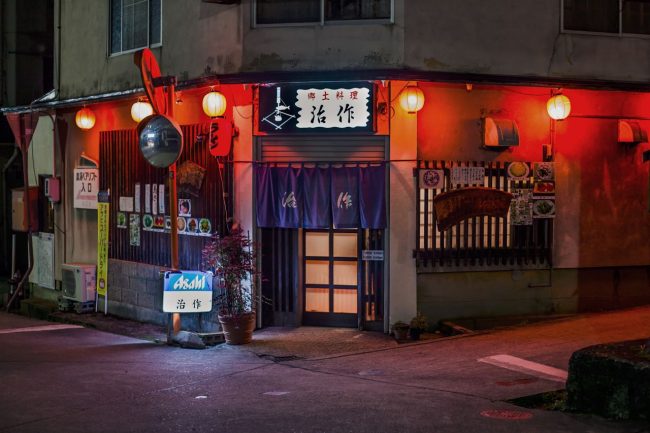 Nozawa Onsen Izakaya – The Style
Unlike other Japanese styles of eating, food items are usually shared by everyone at the table, similar to Spanish tapas. Izakaya dining can be a bit different for overseas guests with the wide variety of menu items and the slow pace. Food is normally ordered gradually over several courses rather than all at once then served up when ready. Normally you order a beer, sake or chuhai when sitting down before perusing the menu. Quickly prepared dishes such as hiyayakko or edamame are ordered first, followed with gradually more robust flavors such as yakitori or kara-age, finishing the meal with a rice or noodle dish to fill up.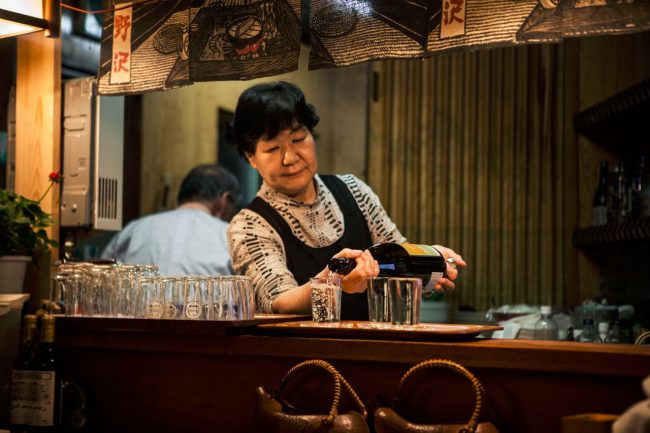 Nozawa has lots of these quaint little Izakayas scattered around the village. Will try and introduce you to a few before the season starts. Jisaku is a typical and awesome little Izakaya check it out here.
Jisaku Nozawa Onsen Izakaya
Great little family run Izakaya in the center of the Village, Just a Mum and Dad business
Name: Jisaku Izakaya
Location: Near Asagama Onsen, just before that on the main road into town. Map Ref: D4 on our town map
Type of food: Izakaya Japanese Style Tapas lots of tasty options including some vegetarian dishes
The Plug: Run by a lovely old couple for many years and popular with both locals and visitors. It is only a small place so get in early to get a seat. The sake and cold beer is also flowing. Great traditional local feel and amazing food
House Specialty: Always enjoy some of the vegetable dishes, butter mushrooms, potato cakes, green veggies.
Average Price of a dish: 700-1000 Yen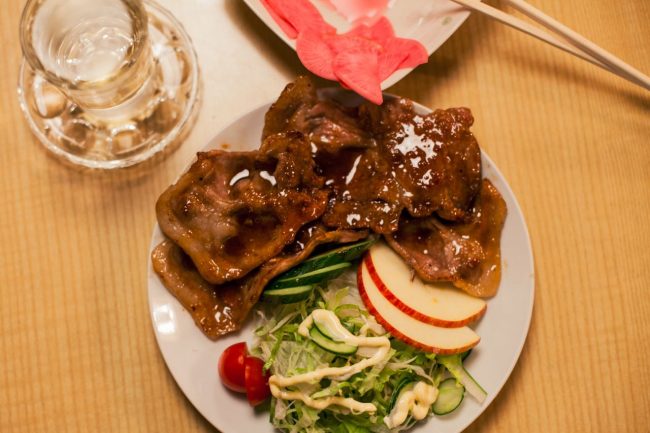 In the end it is all about the food, drink, friends and atmosphere. The food in Nozawa Onsen is just as exciting as the skiing!
Here are some tips on booking restaurants in Nozawa too Tips on Eating out in Nozawa Onsen
Be sure to check out our Nozawa Onsen Restaurant Guide here, will be updating very soon too.