Nozawa Onsen Locals Guide – In the Powder
Nozawa is a small farming community of only 3600 people most of the year, It swells a bit over the Snow Season with guests flowing in from all over the world to enjoy the amazing powder snow and soak in the traditional atmosphere and onsen baths. Leading up to the season we will be running our "In the Powder" series and try and give you the inside scoop on things to see and do with some valuable tips from long term staff, guests and residents of Nozawa.
They have thier favourite restaurants, bars, ski runs and more and will share a bit of the knowledge with you to help you get to the good oil quicker. Nozawa Onsen is only a small village but it has a lot to experience, enjoy and indulge in.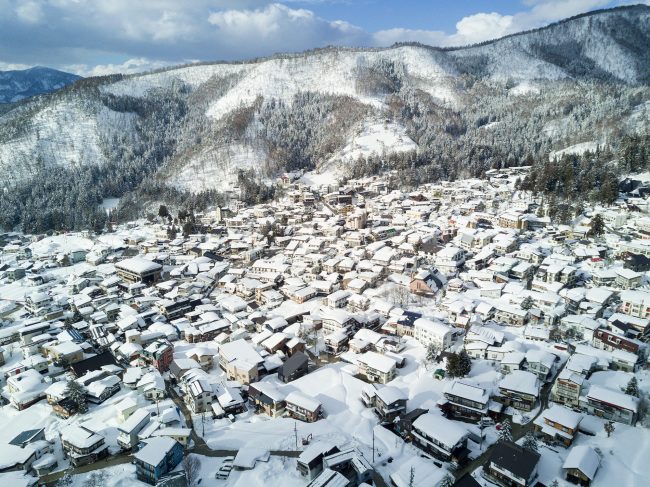 Nozawa Onsen Locals Guide – In the Powder with Luke
Luke is originally from Ravenshoe, near Cairns, in Far north Queensland. He is one of the longest residing foreigners in Nozawa Onsen and a pioneer for introducing overseas guests to Nozawa over 12 years ago. He Spends his years now mostly in Nozawa where his kids go to kindy, and he works on renovations and his Karaoke skiils. We asked him a few questions to get the inside scoop on all things Nozawa. He manages Lodge Nagano and has done for more than a decade now.
What do you do  in Nozawa Onsen?
Manage Lodge Nagano and other parts of Nozawa Holidays
Skier or Boarder or something else?
I enjoy both skiing and boarding. Boarding for a cruise on deep powder days and the skis for the spring touring!
How many seasons have you been in Nozawa?
2018-19 will be my 13thin Nozawa Onsen.
Why did you choose to come to Nozawa over other resorts?
The combination of the friendly local village, onsens and food.
Do you speak much Japanese?
I am very comfortable in Japanese but I know I should study to improve my kanji and more technical language skills. (My daughter is my best teacher!)
What are your favourite things in Nozawa and why?
Onsen: Shinden onsen for its closed-in drying room on an icy winter morning and its high local presence; you can have a chat with one of the local oldies to catch up on the local goss at any time of the day.
Restaurant In town and on the slopes: In town, my favoutirte restaurant is a very hard one to call, but I really enjoy Hakunamatata for its relaxed atmosphere and it's funky Osaka-style bites including the salty chicken wings.
On the mountain: Buna and Hakugin; side by side on Paradise course. Great views and friendly service. Try the Nanban chicken at Hakugin and the Nan curry with cheese AND natto at Buna- I dare you!
Coffee: great coffee is now a much easier thing to find in Nozawa onsen. 13 years ago, not so much! Right now, my favourite espresso is at Napa café, and of course the Gondola café- right in front of the Nagasaka station. For an interesting syphon filter coffee sit at the counter at Green peas. The beaker-style coffee maker delivers a nice filter coffee. (The apple pie is the perfect accompaniment).
Bar: Jugemu near matsuba onsen is a little bar with great snacks and a friendly vibe. Heaven bar for karaoke!
Ski Run: Ushikubi (the cow's neck)- steep and fast on a fresh powder morning!
Cool things to do: Early season- a local apple juice, a book, and my feet in the foot spa near Ogama cooking spring as the sun goes down on a clear afternoon. Peak season: a day trip to see the Ice sculpture festival at Matsumoto castle grounds.  Late season: A bullet-train day trip to Kanazawa to see the cherry blossoms and visit the tea house district.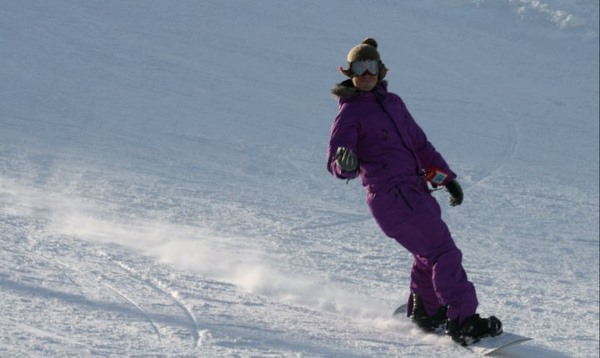 Can you tell us something unique about Nozawa Onsen?
Nozawa Onsen has 13 small districts in the main village. Each district has a small volunteer based council that make sure that the onsens are cleaned and maintained, the roads are clear, and the recycling stations are running smoothly: These volunteers spend time away from their families and businesses to ensure that everyone can enjoy the best Nozawa has to offer- and the village could not thrive without them
What is your favourite day trip out of town?
Obuse township. A historic village, former home to Hokusai the famous artist (best known for the wood block print series of Mt fuji) and current home of obuse milk and chestnuts. Visit Ganshoin temple for the main-hall ceiling artwork, and the Hokusai museum. Lunch must include chestnut rice!
Something special that people should try when visiting Nozawa Onsen?
A sake tasting. The range of hand-crafted sake by Mizuo brewery is truly amazing. Spring water from above the resort in Nozawa, with rice from the surrounding valleys combine to create truly unique flavours.
Words of wisdom for anyone coming on holiday to Nozawa?
To leave Nozawa truly recharged, the local food and the onsen should take up as much of your time as skiing. Take your time. Enjoy.
Arigatou Gozaimashita
Hope gives you some insight for your next holiday to Nozawa. Stay tuned in the lead up to the season and will bring some some more inside info from those in the know to help with a fantastic holiday in Nozawa.