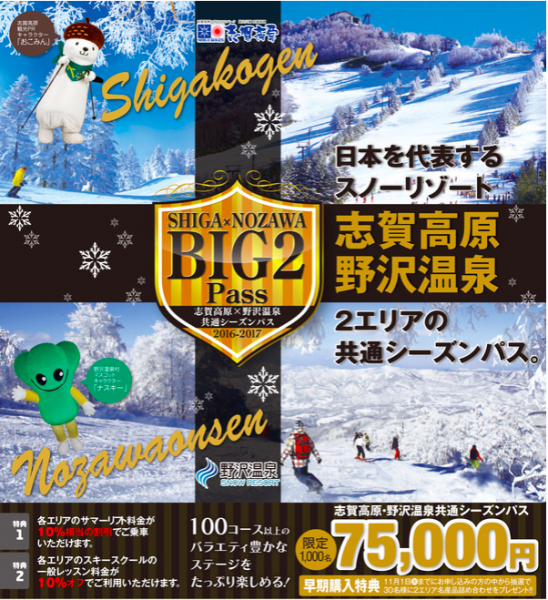 The Big 2 Shigakogen and Nozawa Onsen Season Pass has just come on sale. It's a pretty good deal to access a lot of terrain. We used to ski over land between the two resorts and you can see Shiga Kogen from the top of Nozawa so it is not far away.
Cost is 75,000 Yen compared to 63,000 Yen for the Nozawa Season Pass so if think you may make it over to Shiga Kogen for at least a few days then it is worthwhile.
They limit it to just 1000 passes but I have never heard of it selling out so no real rush just if you buy before the 1st of November you go into the draw to win some prizes.
Facts on Shigakogen
Shiga Kogen is probably the largest ski area in all of Japan. It has a total of 19 resorts that are all more or less interlinked.
Here are some stats for you
– 66 Lifts in total
– 600 hectares of terrain
– 80+ Kilometers of runs
– 980m of Vertical
– Opens Nov 22 and closes May 6th
– Some of the resorts are ski only no boarding!
Despite its sheer size for a few reasons Shiga Kogen has not yet caught the interest of overseas skiers in a big way. Think it is due to the fact there is not really a village center like Nozawa Onsen, so you mainly stay at a large hotel at the base of the slopes and eat your meals there.
Also not a lot of things to do in the evenings, not that Nozawa has a huge amount of night life but the main street can be quite lively in the evenings where as Shiga Kogen is pretty dead. Off piste skiing is also banned in Shiga Kogen and there are not a lot of steeps sections either to hold the off piste. But if you do venture a bit then you can get some nice runs all to yourself!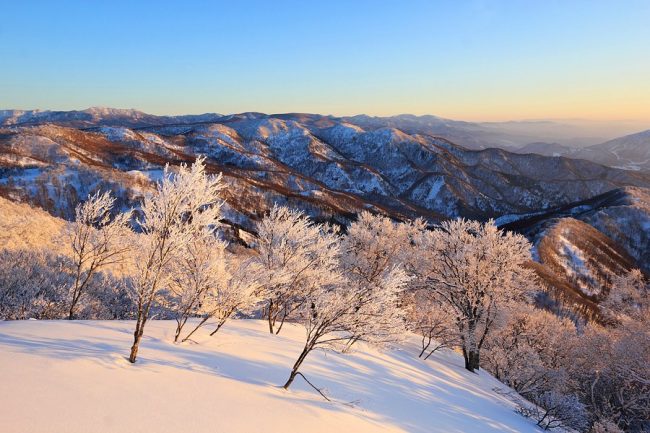 Anyway if you plan on spending a bit of time in the area it is a great combination, Shiga Kogen is only about 1 Hour drive from Nozawa and it has a higher elevation reaching up to 2307 meters. There is the highest bakery in Japan up there too well worth checking out and grabbing a pastry and hot chocolate!
Don't forget the Nozawa Onsen Spring season pass is just 32,000 Yen valid from March 1st and we are doing some great deals for that time too
Package Deals Nozawa Onsen