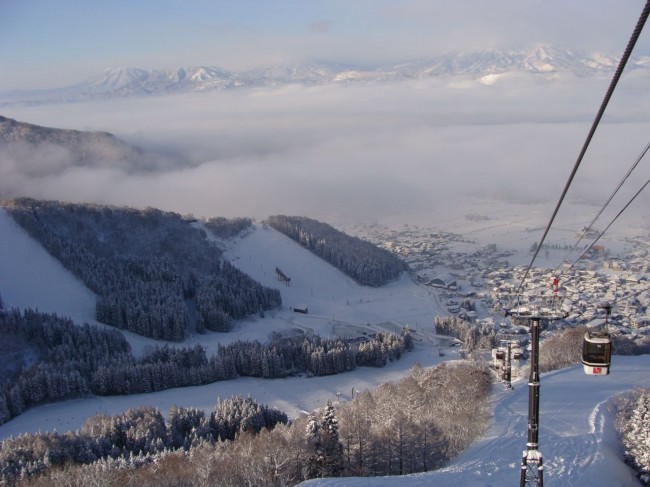 Just under 2 months to go until the Snow season starts in Nozawa Onsen time to get excited. The resort has announced that it will open the Lifts from December 3rd snow permitting. In the past it has been November 21st so there is a chance it could be even earlier. But after 20 Seasons in Nozawa would say that around December 10th onwards is a safe bet if hoping to ski. We will be open from end of November and there is usually snow up top to ride a sled, make a snowman and enjoy the Onsens.
We have already had our first dusting though so the signs are positive. After a pretty warm Summer as always in Nozawa Onsen it looks like Autumn has taken a firm grasp on the mountains.
The elders in the Village often say when we have a hot summer means we can expect a cold winter and and early start to the season so fingers crossed. Ourselves and other local businesses have been worried that it may be a quieter season this year but popular times are starting to fill up already which is encouraging and if you have not already booked would do so soon.
There has been a buzz around the resort with some exciting things happening for the coming season. The top station of the Nagasaka Gondola is undergoing a full renovation which will see a great new restaurant and cafe opening in December. The Gondola has already been in full swing over Summer bringing hikers and Mountain Bikers up to the top to enjoy the green season.
Nozawa Onsen and everyone here is doing well, the rice has just been harvested, the temperatures are cooling and spirits are high, we are ready and look forward to welcoming you all back for another amazing ski season in Nozawa.
We hope you enjoy this our new website show casing all 4 of our unique properties with something to suit everyone and every budget please check it out and come and Ski Japan
Thanks to Jan and Manu from Switzerland for these great photos