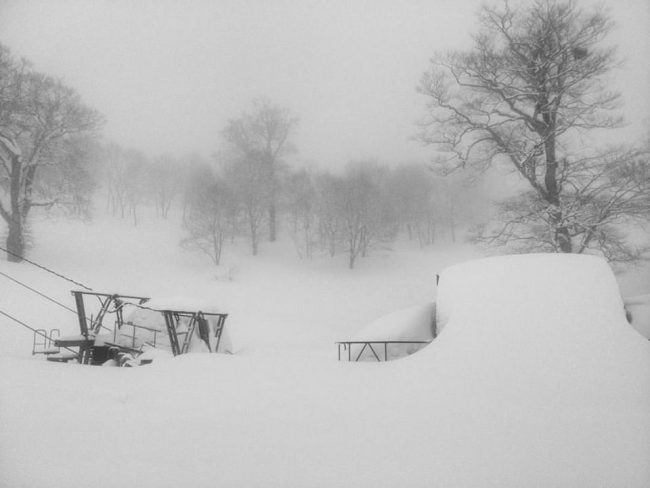 Nozawa Onsen Snow Report 1 April 2017
Still a huge 400cm base in Nozawa to start Spring!
Base at top: 400 cm
Temp at Top: -2 Degree
Base at Uenotaira station: 300 cm
New snow since close: 0cm
Weather: Cool and Cloudy with Fog up top
We got a bit of a dusting overnight up top and nice and cold this morning with a calm ghostly feel on the slopes. The trees are looking very pretty. Yesterday was pretty cold all day too. Enjoy the Winter feel while you can as looks Japanese precision is going to come in to play again with the Seasons.
This is the last weekend for all the lifts to be operating for the resort, then from Monday most of the bottom lifts should close. Can still ski top to bottom no problem with all this base though and just ride the Nagasaka Gondola back up. Looking ahead we are maybe in for some snowfall up top on Monday night and about 10cm, which will be nice. Then the sun is out and temps climbing from midweek on. Great time for the kids and the lovers of spring skiing. We usually do some great snow tours around this time of year and will all this snow will be amazing few weeks ahead.
It is officially spring now being the 1st of April so bring on the glorious sunshine and some beautiful spring skiing. Not a lot of people about for the weekend as the Cherry Blossoms are starting to pop in Tokyo and the Baseball season has begun so many Tokyoites are staying home this weekend. Stay safe and have a great weekend!