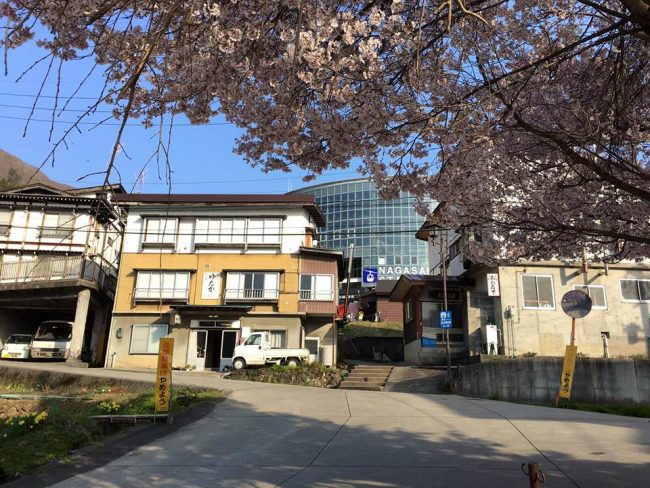 Nozawa Onsen Snow Report 3 May 2017
Sakura and Sunshine for Nozawa today
Base at top: 190 cm
Temp at Top: 5 Degrees
Base at Uenotaira station: 100 cm
New snow since close: 0cm
Weather: Beautiful Warm Spring day
Plenty of sunshine and very light winds on the cards today in Nozawa Onsen. As can be expected for this time of year the snow is gradually giving way to the green.
Top to bottom skiing is officially over for the season but can still ski all the top Yamabiko runs and Uenotaira all the way down to the Paradise slope.
There is a different type of white flake blanketing the village with the Cherry Blossoms or Sakura in full bloom around the village, always magic to see. Together with the bright yellow Nanahana in the valleys spring has certainly come to Nozawa and it feels good.
There was a big line up of gear to get on to the Nagasaka Gondola this morning. Has been a while since we saw that with the Golden Week crowd filtering in.
Nozawa Onsen Snow Report 3 May 2017 – Forecast
The forecast is looking pretty stable with mostly sunshine except a bit of light rain Friday and Saturday. Otherwise it is clear skies and light winds to see us thru until the end of the ski season on May 7th. Just a few days to go so get up there and soak in the spring goodness. Don't forget the sunscreen…
Thanks Seiji san for the Photo of the Cherry Blossoms just below the main Gondola