Winter Returns To Nozawa Onsen
Saturday 17th of March 2018
Temp at Top: -8℃
Weather: Partly cloudy
Base at top: 260cm
Base at Uenotara station: 185cm
New snow since close: 4cm
Winter returned yesterday bringing with it four centimetres of fresh snow up on the mountain and some light, intermittent snow at village level. Parts of yesterday saw a bit of drizzly rain too, so we got a bit of the good and a bit of the bad weather-wise with conditions still fantastic for skiing and boarding.
According to the experts, we should squeeze a few more centimetres out of the coming few days, and then Wednesday night/Thursday is forecast to deliver a considerable amount. In the meantime, however, today is shaping up to be another cracking Spring day on the mountain, with the forecasts telling us we'll be bathed in sunshine for the day's duration. Temperatures at the top are not due to climb above zero and so shouldn't get too hot and sweaty on the slopes.
The real bonus where this time of year is concerned is that there's no crowds or queues. In fact, you may very well find yourself alone on a run as I did yesterday afternoon. A bit of fresh snow and not many people to share it with; what could be better?!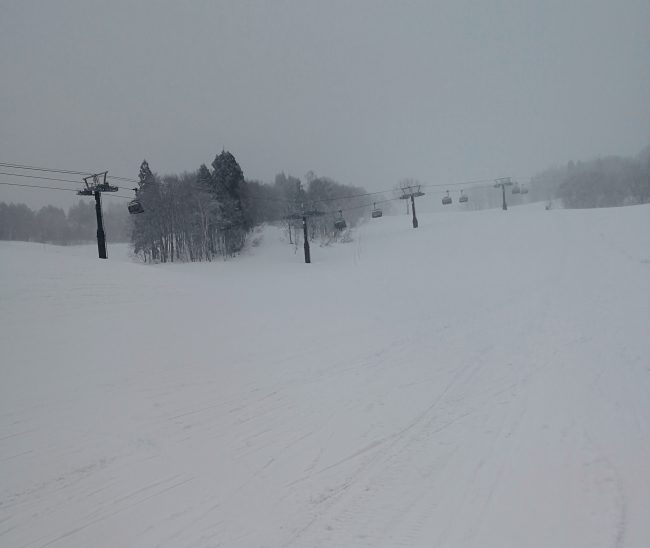 Nozawa Onsen Green Season
Perhaps the sunny days of recent times reminds us that the Green Season will be upon us in a few months. When the snow clears in Nozawa Onsen, it gives way to a myriad of different pursuits and activities. While the onsen, culture and beauty of the village and mountain remain, summertime in Nozawa Onsen means mountain biking, yoga, hiking, trail running, and more.
Check out our list of Green Season activities in Nozawa Onsen;
Nozawa Onsen in Summer – Things To Do