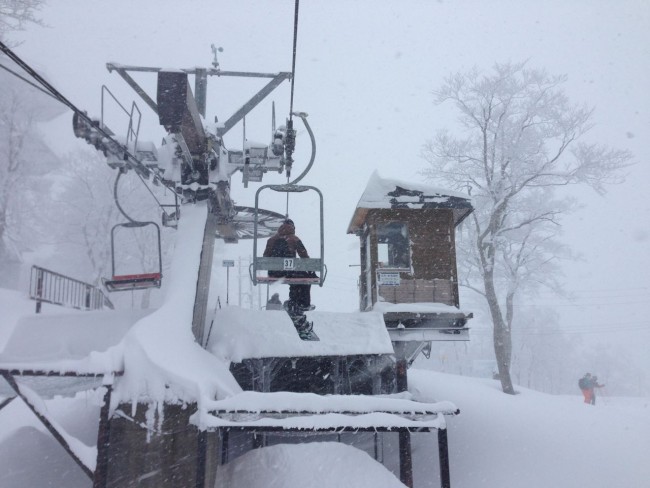 Always a shame to see the last chair taken off the cable at the end of the winter season but at the end of today that is exactly what will happen.
Firstly a big arigatou to all the lifties, resort, restaurant, lodge and rentals staff. Everyone that works hard to make Nozawa a great place to visit. Many will now start working on the fields with farming rice and other vegetables the other big industry in the village.
Mostly thank you to everyone that visited Nozawa Onsen this year and had a great time. It was a pleasure having you all to stay, we hope you enjoyed your snow holiday and hope to see you back again soon.
As most are now aware this was not our biggest season on the snow front. I have done about 20 season in Nozawa now and cannot remember never having to shovel snow off the roof but this season we were pretty much spared the dangerous job! My 80 year old neighbor can also not remember a winter so light on for snow. But she assures me that next year the snow will be back in force.
Pretty amazing considering last season we were named     " The Snowiest Resort on the Planet" a few times with a ridiculous amount of snow.
To give you an idea here are some basic stats
This season
Highest Base; 220cm
Total Snow Fall; 472cm
Last season
Highest Base; 470cm
Total Snow Fall; 1044cm
Last season was more of a standard season for Nozawa Onsen, this season some are blaming it on El Nino where temperatures in the Pacific Ocean are warmer than normal. We all just hope that it is a rare occurrence not an on going climate change. But guess it is up to all of us to do our bit to Cool the Globe and support the environment.
Anyway bottom line is even our worst season in Nozawa could be better than the best season in some parts of the world. We still had some 60cm plus dumps, awesome powder days and terrific on piste skiing most days. See some of the photos attached.
As my 80 year old neighbor agrees next season is sure to be another great one and we look forward to welcoming you up to Nozawa again. Special thanks to all of our repeat guests that come year after year it means a lot to us and we hope to see you back next season or the one after!
If you have not already booked now is a good time as things are filling already here is a link Book your next snow holiday here
We look forward to hearing from you. Until next season we will keep you up to date with what is going on in Nozawa on our Facebook page and blog so stay tuned and see you in just 7 months or most welcome in the Green Season. Stay safe arigatou gozaimashita