Nozawa Onsen Terrain and Runs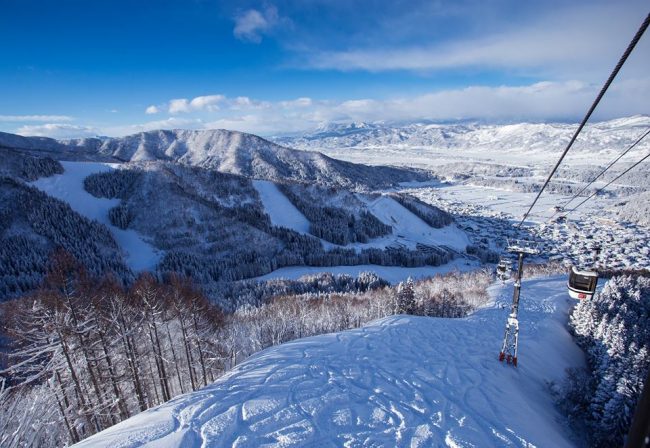 A Guide to Nozawa Onsen's Skiing & Snowboarding Terrain
Here in Nozawa Onsen we're frequently gifted with bucket loads of light, dry powder to play in. Yet it's actually Nozawa's fun terrain that allows us to enjoy this snow to its full potential.
Nozawa is incredibly appealing to skiers and snowboarders because it has such a huge range of terrain to suit different tastes. It has wide open trails for beginners and families, as well as plenty of intermediate and advanced terrain with tree runs, natural bowls and steeps to keep things interesting. When you're not riding powder there's the park and halfpipe, moguls and fantastic groomers to get carving on.
If you're new to Nozawa and not sure where to start, follow this terrain guide for all levels and styles of riding. We'll cover the good stuff for beginners and families, intermediate and advanced riders, powder hounds, park rats and more.
Beginners & Families – Nozawa Onsen Terrain and Runs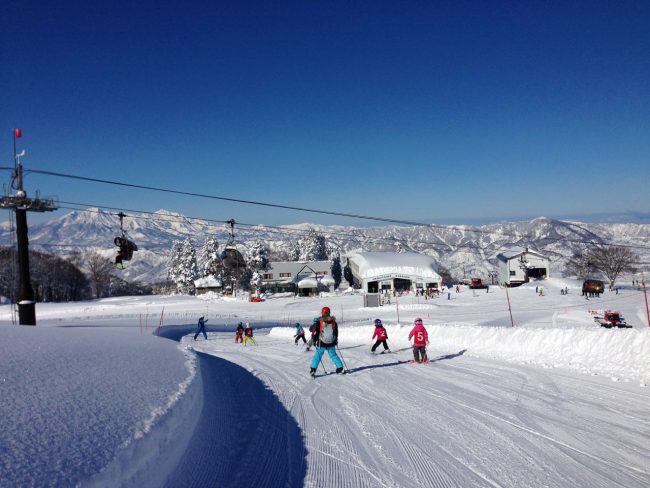 About 30% of Nozawa's trails are beginner runs. When you combine this with Japan's soft powder snow it makes it a great place to bring the family and learn how to ski or snowboard.
The Hikage base area is a fun and safe place to start for children and beginners. It has a dedicated kid's area that you can use free of charge with a magic carpet for learning the ropes, a sledding area and inflatables to play on. Hikage is also very convenient because you can access it from the village via the Yu Road or via a snowmobile from the bottom of the Nagasaka gondola. There are plenty of food and drink options around Hikage so your family won't be hungry. This is also where the ski school and day care are located.
Once you've mastered the short, easy runs around Hikage then you can take the Hikage gondola up a bit higher and test out the mellow pitches of Paradise and Uenotaira. These are wide, open Green runs that can be easily lapped via the Paradise and Uenotaira chairlifts to get lots of mileage. From the end of Paradise you can take the long, winding Rinkan (or Forest Trail) back down to the Hikage area. However, snowboarders beware as it is quite narrow and flat in spots.
Other places of note for beginners are the Nagasaka and Karasawa areas for perfecting those beginner turns. Like the Hikage area, these are wide open spaces located on the lower slopes so you're unlikely to get lost and suddenly end up on a black run! If you're new to snow sports or trying to progress you might want to book a lesson with Nozawa Holidays.
Intermediates – Nozawa Onsen Terrain and Runs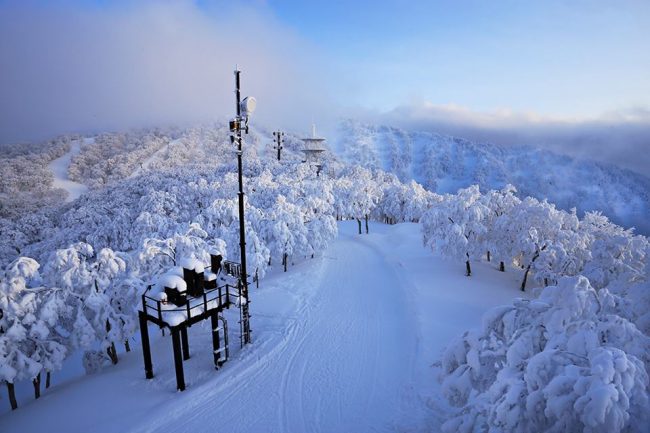 If you're ready to move off the Green runs then grab a trail map and look for the Red runs, as they're roughly equivalent to other country's Blue runs. The Yamabiko area at the top of the mountain has a multitude of Red runs that can keep you entertained for most of the day. It is also home to Nozawa's highest lift and has stunning views where you can see all the way out to the Japan sea on a clear day. Highly recommended!
Sky Line is another great option for intermediate riders. It's one of Nozawa's longest runs, following the mountain's ridge line for 3.5km, and has some fantastic views of the village below. There are multiple different Green, Red and Black runs that branch off from Sky Line so be careful of which ones you choose. If you don't want to end up on a Black run then take the first or second left trails that will take you down to the Karasawa area.
Finally, if you're feeling the need for a challenge then head to the aptly named Challenge run. This trail begins at the bottom right of Paradise and takes you all the way down to the Hikage area. It's a great way to test your ability to ride steeper terrain before you tackle any Black runs.
Advanced – Nozawa Onsen Terrain and Runs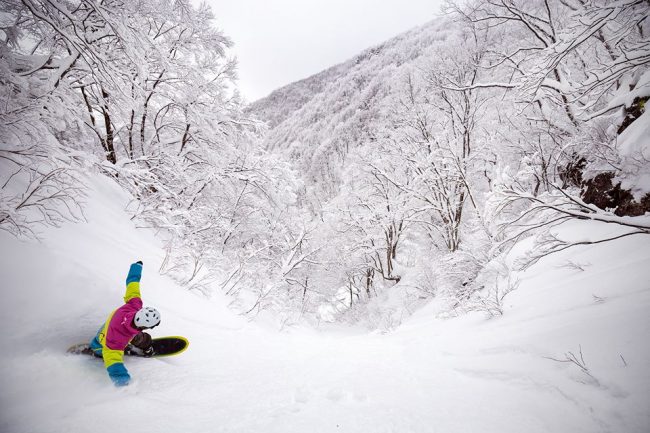 Nozawa is a great place to progress your riding as it has so much variety. A firm favourite is the tree areas under the lifts at Yamabiko. It has some amazing natural bowls and halfpipes that never get old, and is a great introduction to tree riding as there are no sudden cliffs, rivers or super tight trees.
If you like ungroomed areas and moguls then Nozawa will be your new favourite place as the majority of the Black runs are left ungroomed. These are magic on a powder day and a good mogul challenge otherwise. On the Hikage side you can try out Schneider and Utopia A which go from the bottom of Paradise, as well as the moguls near the Hikage triple lift. The bottom half of Sky Line has access to four different black runs that usually develop decent bumps to get the legs burning. There's also two underrated runs in the middle of the resort called Ushikubi and Kurokura that are usually very quiet.
To test your edge hold head to Nozawa's steepest on-piste run called Challenge 39. It's a Black run above the normal Challenge run that has a 39 degree pitch. Or if you'd prefer to just go fast on a steep groomed run then head to the Kandahar Race Course. When it's open, Kandahar provides some of Nozawa's best carving terrain.
Powder Hounds – Nozawa Onsen Terrain and Runs 
Nozawa has one of the highest annual snowfalls in the world so Powder Hounds are sure to be in their element. You don't have to be an expert to ride good powder either, as Nozawa has an abundance of mellow tree runs, easily accessible sidecountry and epic backcountry.
As previously mentioned, the Yamabiko area at the top of the resort is great for tree riding, natural features and deep powder pockets. Most of the good stuff can be spotted from the lift so it does get tracked out quickly. I'd recommend catching first lifts if you want fresh tracks at Yamabiko and then heading to somewhere else from about 10pm onwards.
One of the frequently overlooked areas that retains its powder stashes well into the day is the Yunomine area. There are Green runs, Red runs and plenty of tree runs that you can usually have all to yourself.
There are some great sidecountry options off Sky Line and some spots underneath Nagasaka gondola. However these are all technically off limits so be prepared to suffer the consequences and of course go with someone who knows where they're going. It should go without saying that bringing your avalanche gear (and knowing how to use it) is a must. You must also register wth the Ski Patrol Office before venturing out of bounds.
The best way to explore Nozawa's magnificent backcountry and sidecountry is with guide for a tour. They can provide you with all the necessary gear and show you all the hidden gems around Nozawa to get the best experience possible – without any crowds! Your guide will tailor the experience to your group so you can ride trees, steeps, natural halfpipes and more without worrying about getting lost or cliffed out.
Park Rats – Nozawa Onsen Terrain and Runs 
While you're sure to spend most of your time slaying pow in Nozawa, there's also a small park for those warmer months. Beside Uenotaira trail is a line of rollers, boxes, rails and jumps that are best suited for beginner to intermediate park riders. There's also a fun halfpipe that can be hiked or lapped via the Uenotaira chairlift. Note that Nozawa also hosts a few park competitions throughout the year such as the Onsen jam, a competition on Paradise slope with a purpose built park, and a banked slalom at the end of season.
Has all this talk about awesome snow and terrain got you excited for winter? You could be riding pow in just a matter of months if you book a trip with Nozawa Holidays.