Spring conditions and playful pistes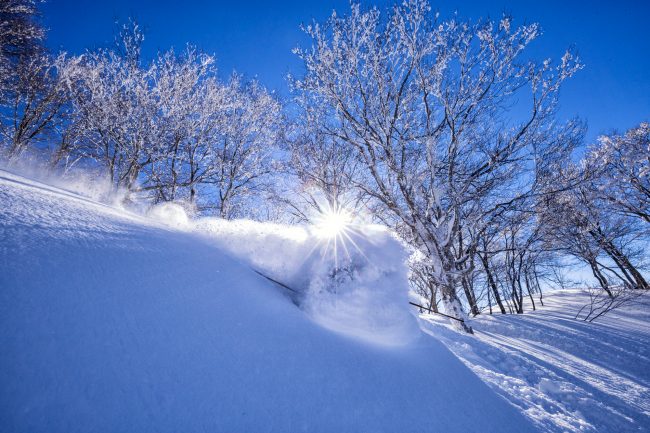 Nozawa Snow Report 29 January 2017: Stats
Base at top: 300 cm
Temp at Top: -3 Degree
Base at Uenotaira station: 245 cm
New snow since close: 0 cm
Weather: Sun
Nozawa Snow Report 29 January 2017: Overview
Wow, what a stunning sunny day it is outside today. Definitely not a day to be sitting inside here in Nozawa Onsen and what better way than to spend it outside, skiing in the beautiful Japanese Alps. Light winds, ample views and toasty sunshine will affect the mountainside today. It will be warm and spring-like with the freezing level quickly rising to around 1500m, meaning the snow will be fun and easy going mountain wide. Soft and slushy. One of my personal favourites for carving pleasure, Kandahar, is open for only the second time this season (word is they have been saving this piste for a special race event later in the year). As a result, every lift is running on the mountain today.
Yesterday was pretty similar throughout the afternoon yet much cooler in temperature. By around 1pm the clouds parted revealing a bright blue sky. As the day wore on the skiing improved as the icy pistes softened by means of sun exposure. Later in the evening a dazzling light show overhead as the setting sun cast a salmon glow over the town and mountain. A perfect way to end a good afternoon.
Nozawa Snow Report 29 January 2017: Forecast
Tomorrow will be quite the opposite so make the most of the clear weather today. It will be a pretty miserable day with rain looking likely in the morning. Snow showers will lower to 1000m by the afternoon so it will be freezing at this point from mid mountain and above. Later in the night temperatures will cool even further and heavy snow is forecast right down to sea level. Its possible we will wake up on Tuesday with 30-40cm on the ground. These snowfalls will gradual ease into Tuesday becoming isolated during the evening. Further ahead, another good run of snowfalls is possible from Wednesday night onwards.