Japow keeps coming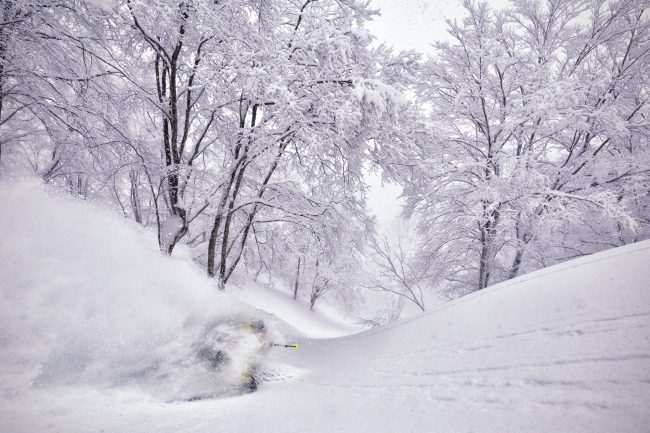 Nozawa Snow Report 8 February 2017: Stats
Base at top: 370 cm
Temp at Top: -11 Degree
Base at Uenotaira station: 270 cm
New snow since close: 25+ cm
Weather: Light snow
Nozawa Snow Report 8 February 2017: Overview
A good morning to all our readers. Last night it dumped again decorating the mountain with even more fresh japow. I think its going to be an epic day on the hill. With less winds snowfall accumulations would have been much more homogeneous and less compacted. Furthermore the potential for patches of clear weather later is a real possibility. Waste no time in bed this morning!
Yesterday we experienced some good windblown powder snow across the resort of Nozawa Onsen. A very brief patch of sunshine greeted us in the morning only to be quickly replaced by further snow showers that intensified through the day. It seems we are having an overall trend of windier conditions this season in comparison to normal. I think this can be attributed to numerous small low pressure systems moving easterly off the Asian continent and crossing over the Sea of Japan, where they intensify before passing overall central Honshu. In a normal pattern these lows develop far further North, or not at all. It can also explain the small spikes of temperature as the low pressures make their approach. Regardless this hasn't seem to have affected snowfall amounts with the base accumulation sitting at about average so far.
Nozawa Snow Report 8 February 2017: Forecast
For tomorrow the wind is predicted to swing southerly again as a developing low pressure approaches creating warming conditions and with the freezing point topping out at around 900m above sea level during the afternoon. However this trend will be short lived as the low passes to our east dragging with it cold air and heavy snow including a solid overnight dump for Friday. From then on snowfalls will ease to moderate levels during Friday, continuing at this rate over the weekend. Temperatures will remain cold hovering between -7c and -10c at the summit of Mt Kenashi. Further ahead falls will become isolated Monday with stretches of clear weather more likely than not.