Nozawa Onsen Ski Resort in Nagano Japan is quickly becoming a favourite destination for skiers and snowboarders from all over the world and with very good reason. It has a beautiful traditional Japanese feel combined with some of the best snow conditions in the world! All this plus delicious food and streets lined with soothing Onsens or hotsprings which are free to use.
Many people visit in the peak times of January and February but for some reason think that the season is over in March but that is not the case March can be some of the best skiing of the season and we also love the Spring skiing in April.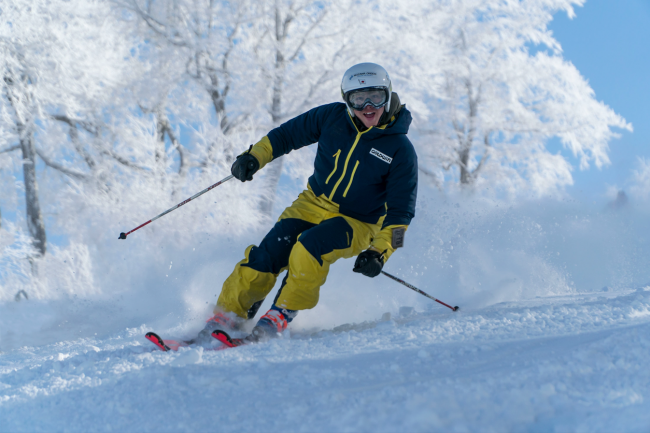 5 Reasons to visit Nozawa Onsen in Spring
No Crowds, both the slopes and the restaurants are quiet and can have your pick of the powder snow and the delicious soba noodles
Fantastic conditions – we still get some good dumps of fresh powder but also lots more gorgeous sunny days. Great for the kids
Huge Base of Snow, the snow usually hits its peak end of February or early March and we often have well over 3 meters base in March
Its Cheaper the resort do cheaper lift tickets and Nozawa Holidays does cheaper accommodation so save some money in Spring
Explore Japan, Great time to travel further afield in Japan without freezing! Warmer days and may even catch the Cherry Blossoms.
How About The Discounts:
15% off all bookingsbefore December 20 or after March 15
20% off all bookingsafter April 7
Here is an idea of a package for 2 Adults and 2 Children from March 15th until the end of the season on May 6th
Spring Japan Family Ski Holiday
7 Nights Stay based on Japanese Style Tatami Room with Share Bathroom
Healthy Breakfast Included Daily
6 Days Lift Passes
Use of all the Village Hot springs
All from just 67,650 yen per person Adult
Children from just 32,825 Yen
Total = 200,950 Yen
Hope we have persuaded you to make the switch here is some more great info photos and video and links to book your Japan adventure
https://www.nozawaholidays.com/march-is-magic-in-nozawa-onsen/
We look forward to welcoming you