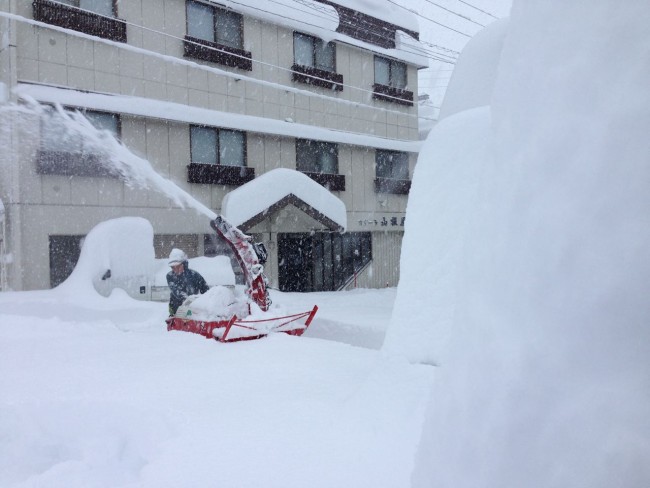 The Ski lifts at Nozawa Onsen Officially closed on May the 6th with the end of the Golden Week Holiday. They are still running but only to take up racers doing some spring training.
We had a 135cm base on the last day so still some fun spring skiing to be had if you strap on some skins and enjoy your back country touring.
Has been another amazing season in Nozawa with yet again a crazy amount of snow. Reaching a peak of 470cm Base up top around mid February.
We started with a bang in mid December when we got around 300cm of snow in just 4 days! It was ridiculous; I don't ever remember that much snow so early and my 75-year-old neighbor agreed with me. We had more snow fall in December than January, which does not happen very often!
That pretty much set the tone for the season and we were working hard on the shovels and scraping for the powder planks most of the season. Had more Europeans stay with us this year and they also could not believe how much snow we get. At a few stages through out the season Nozawa was rated as one of the snowiest resorts on the planet!
March was a bit less snow than we normally get but we still ended the month with some great dumps and some very empty slopes.
All in all it was a busy season for overseas guests but everyone was pretty well behaved and enjoyed them selves and we hope it stays that way. Things are already starting to fill for the busy times so if you have not booked yet and are keen to come back suggest you get in quick.
A huge arigatou and thank you from everyone in Nozawa to all of you who visited us this season we really appreciate you coming and hope to see you back again for many years to come.
A big thank you to all the staff of the resort, restaurant's and locals who worked very hard to make everyone's stay a memorable one. A special thanks to our great team at Nozawa Holidays for a terrific season. Also to Shaun for once again some amazing photos on these daily reports. We hope you have all enjoyed them.
The Green season is taking a hold on Nozawa now and the farmers are busy planting all the crops. Nozawa is also an amazing village to explore in the warmer months so hope to see you up here. Especially with the new Bullet train now open to Nozawa you can be in the mountains in just over 2 hours from Tokyo!
Mountain Biking, Hiking, Rafting, Farming, lots of fresh produce and the amazing Onsens await.
We will keep you posted on what is going on in Nozawa on our Facebook page so stay tuned and the next ski season will be with us again before we know it.
Until then thanks again for joining us stay safe and " Stay Classy" Arigatou gozaimashita