Peak Base Nozawa Onsen on March 24th ! Magic March continues in Nozawa Onsen!
Wow another day another big dump of snow in Nozawa with a beautiful 20cm up top and still going strong! Heavy snow right now down to the village level and should ease but continue to snow all day. Check the video!
410cm Base up top the peak depth for the whole Season and another dump expected for Sunday Night! Lodges are closing down due to lack of guests and there is literally no one on the mountain. Going to be an amazing day so get on a train, plane, bike or a good set of snow shoes and come on up to enjoy the March Magic. Lots of beds at great deals available now https://www.nozawaholidays.com/
#marchmagicnozawa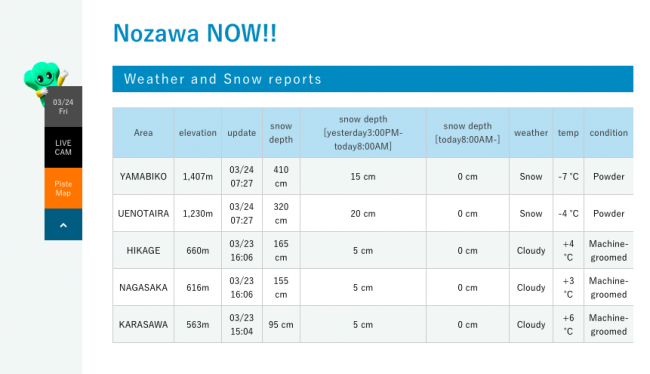 Hard to believe it is nearly the end of March and we have the Peak Base for Nozawa Onsen for 2017 season. At 410cm it is double what may resorts around the world experience even in peak season! The snow kids are not finished with us yet either and looks like we are in for another big dump at least for up the top from Sunday night with another 20cm expected to fall across the resort!
 Peak Base Nozawa Onsen but no one here !
Lodges including the very popular Lodge Nagano are closing their doors for the season due to lack of guests. Amazing with this much snow going to waste! The slopes, restaurants and bars are empty! Great time to come up and take advantage of the deals. Villa Nozawa the Number 1 lodge in Nozawa according to Trip Advisor is still open so click here to look and book now! Villa Nozawa Nozawa Onsen Lodge