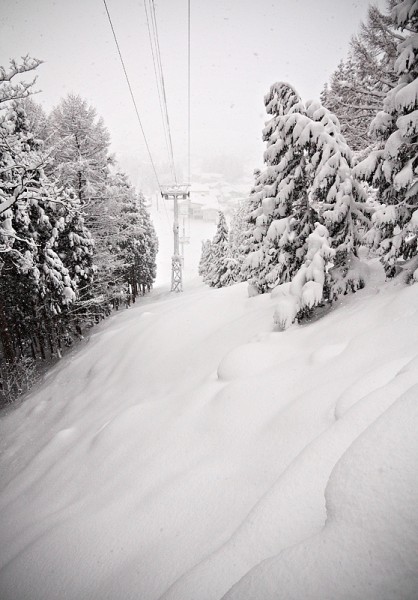 Base up top:  275cm        Temp Top;  -12 Degrees
Base at bottom;  160cm
New Snow since close:  35cm
Weather; Clear
Get the cameras out we have an absolute stunner here it Nozawa Onsen this morning! Light snow flurries continued overnight giving a minor top up to the cover. However the dawn saw the clouds part and give way to sun and perfect blue skies. This is one of those days to remember with plentiful deep snow, minimal wind and excellent visibility.
Yesterday saw continued moderate to occasionally heavy snowfalls but the extremely flat light made skiing outside the trees challenging, especially up high. Off piste chokingly deep powder limited skiing to steep areas with many riders became bogged down on the more moderate slopes. However snow quality was just about as good as it gets.
Current forecast suggests a return to snow showers tomorrow before a period of variable weather the following few days.