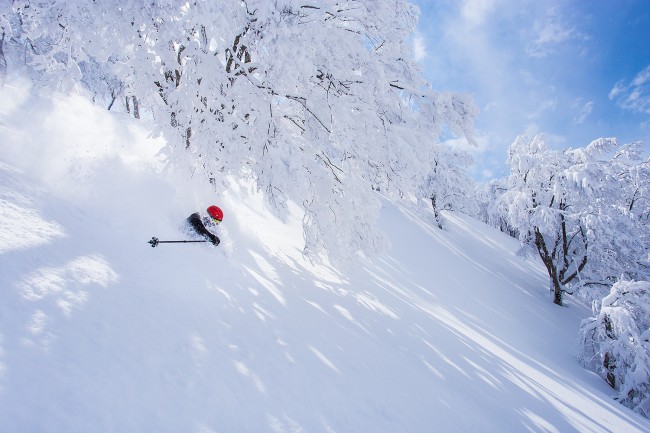 Base up top: 445 cm    Temp Top; -7 Degrees
Base at bottom; 250 cm
New Snow since close: dusting
Weather; Mostly fine
How can it still be so good? After the lacklustre final 10 days of winter many had given up hope of fresh snow of enough significance to improve riding conditions back to mid winter levels. In this case patience has paid off and we are currently experiencing one of the best weeks of the season, mostly facilitated by the entire lack of crowds. Yesterday was extremely good, certainly one of the best days of the season, deep dry powder that was effortless the glide through in combination with sun between the drifting snow clouds. Just perfect.
Today should be a similar affair, except with a warm airstream making its presence felt by the afternoon the snow will become heavier later in the day. However this morning conditions should be very similar to yesterday afternoon. The Yamabiko trees will be on fire! Challenge will be less deep but also good and Kandahar raceway will be excellent for fast carving.
Another moderate dump is forecast overnight with light snow continuing into tomorrow. Tomorrow will be the last good powder day for now. Sun will prevail from Sunday until Tuesday in combination with a gradually rising freezing level.