Base up top: 150 cm                  Temperature; -8 Degrees
Base at bottom; 80 cm
New Snow: 20 cm
Good news in Nozawa this morning the whole resort is pretty much open for business. Karasawa and the Snow Park included. Kandaha Race course is about the only run not operating yet but they are keen to get that going soon too.
After a short break on the snow front yesterday morning the assault started again late yesterday and has been falling most of the night. Snowing pretty heavy outside now and reports are showing 20cm up top. There is about the same now in the Village.
Yesterday was a bit icy in the morning and people were already asking for fresh snow and it has been delivered but it is just a prelude to the kiss with the big dump still due tomorrow. It is looking like a big long weekend in Nozawa to celebrate the Emperors Birthday. The snow will be big too so better pack the powder boards.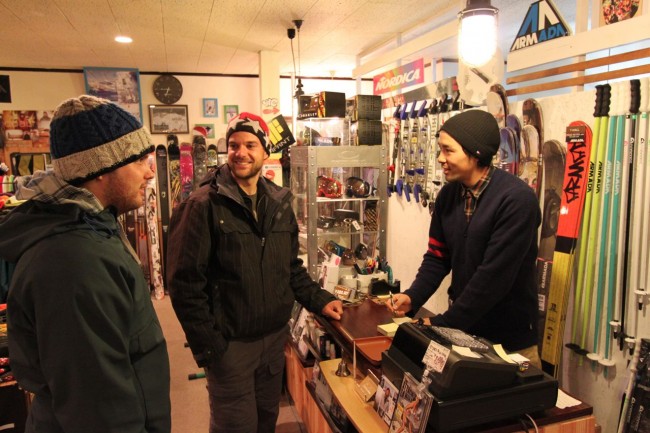 Went down to Compass House Ski Shop just below Villa Nozawa last night and caught up with the Ueno brothers Yuta and Take at thier cool ski shop. They have expanded the range again this year and it is quickly becoming the place to get premium ski gear in Nozawa Onsen. If looking for something special let us know and will point you in the right direction. The Ueno family are old friends of ours, the parents run the awesome Buna Restaurant up at Paradise slope and the kids are all freaks on the skis. Appreciate any support you can give to the local businesses and they will be happy to see you.
On the other side of the Fashion coin one of our guests John was showing off some serios 80's style on the slopes yesterday and thought I better post a shot!