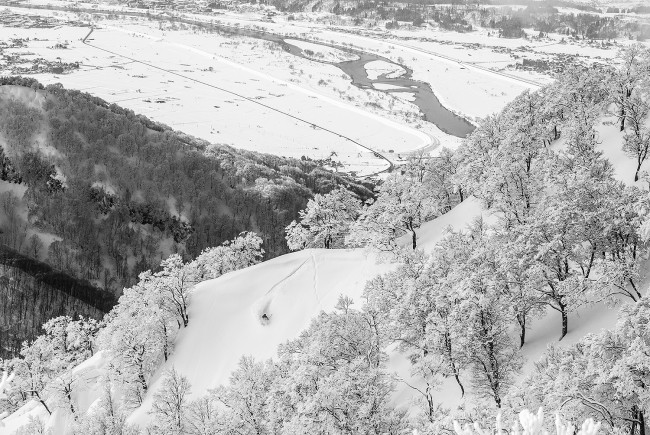 Base up top: 380 cm    Temp Top; -4 Degrees
Base at bottom; 220 cm
New Snow since close: 0 cm
Weather; Overcast
What a day it was yesterday! The snow was not deep by any margin and many tree areas were riddled with dreaded death cookies but those who got up on the hill were rewarded with stunning morning views as clouds drifted over and away from the resort revealing the beautiful surrounding landscape. The lower angle open slopes held some nice powder that was certainly rideable and the groomers were just about perfect being soft, smooth and fast. With such uncrowded slopes at the moment it was almost as if everyone knew everyone on the hill. A great atmosphere and vibe all round!
Today the atmosphere holds a definite prefrontal feel too it. There is something coming and everyone knows it. Powder is coming!! This morning its overcast above the village and we expect light flurries on the upper slopes later. Groomers will definitely be the pick today. By later tonight the freezing level is expected to nosedive in conduction with moderate to heavy snowfalls.
Tomorrow blizzard conditions aren't out of the question as strong winds are forecast with heavy snow. Snowfalls and winds should ease to moderate levels on Sunday before becoming light to moderate on Monday. From then on variable clear with isolated snow showers weather is set to last most of next week. All together the forecast received a significant downgrade over the past few days but it still looks very good indeed.