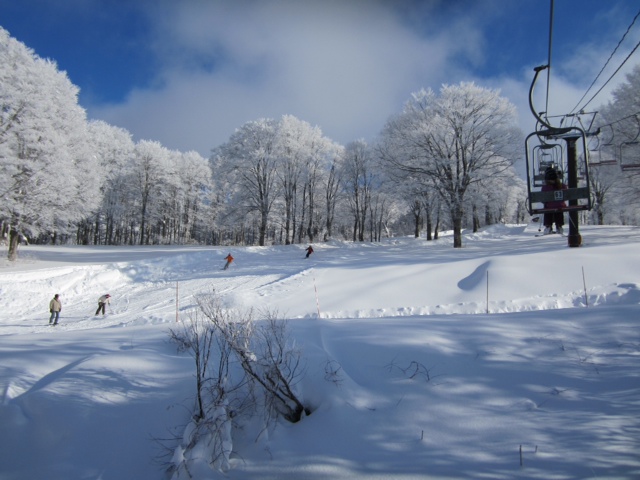 Base up top: 125cm                  Temperature; -5 Degrees
Base at bottom; 80cm
New Snow: 10cm
Has been snowing lightly in Nozawa Onsen since this time yesterday. Although the snow has been consistent it has not affected the base a great deal with about 10cm been collected over that time.
Conditions are excellent though and it is now possible to ski top to bottom with Skyline opening yesterday morning. Even the home trail that runs along the bottom of the resort is in good shape with a nice covering of snow and with a light layer on top it is all smooth sailing.
I took a walk along there this morning and it was just like a postcard with fluffy snow and flakes floating down from above.
Yesterday was an awesome morning by al reports and the powder hounds were out in force digging themselves out from under the chairs at Yamabiko. The afternoon warmed up a bit though and was a little slow in places. Last night was the annual Nozawa Onsen Fishing Club annual dinner so there are a few slow movers this morning too.
The outlook is for a bit of sun and light snow over the next few days then the snow fest continues from Thursday night getting heavy over the weekend and into Christmas.