March is a bit of a surprise package in Nozawa Onsen especially the first 2 weeks. Which looks like the time Qantas is doing some deals with fares from about $839 between the 6th of March and the 16th of March. Check out fares here http://tinyurl.com/hoblfcn
Check out the link below for photos and videos of what conditions you may expect in the first half of the Month.
Here are some of the reasons we think March is Magic in Nozawa!
Huge base sometimes up to 500cm depending on the season. We still get some good dumps too!
No crowds! Many people have forgotten about skiing so you can often get the slopes to yourself and the restaurants and Onsens too!
Discounted lift tickets. Kids ski for just 1500 Yen a day (About $20) Adults can get the Spring season Pass for 32,000 Yen (About $420) for unlimited days until the end of the season!
Get your choice of accommodation options with still lots of great availability. January and peak times are now getting pretty hard
Some nice sunny days too to enjoy the views and tranquility
So have a think talk to your mates and hope to see you up in Nozawa this March our favourite month of the whole season!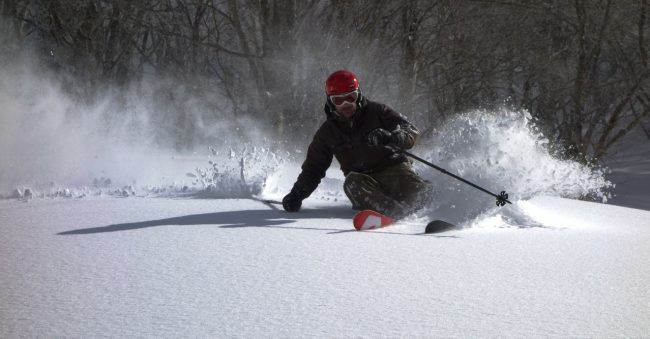 Go against the crowd and get the benefits
It is sometimes harder for people to get holidays outside the peak season, so if you can manage too and go against the crowds the rewards can be great. Take the kids out of school and put them in to Ski School in Nozawa. We have some amazing Ski and Snowboard Instructors from all over the world and they can help get you or your kids up to the next level. Remember kids are only 1500 Yen a day for lift passes and at Nozawa Holidays Properties they are half price if staying in the same rooms as the Adults. So it works out a very cheap ski holiday to Japan.
Nozawa has so many amazing restaurants but in January it can be very hard to get in to them. Come March and you can have your pick no need to book just walk in which is always nice. You should never have to line up for a ski lift either with some of the slopes like a private resort.