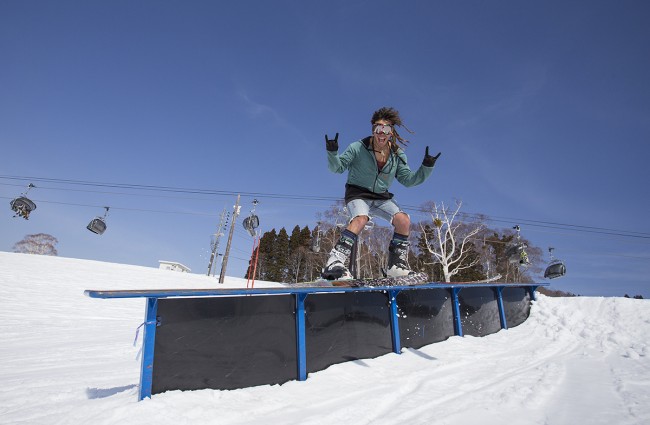 Base up top: 310 cm Temp Top; +5 Degrees
Base at bottom; 125 cm
New Snow since close: 0 cm
Weather; Overcast, showers
Unfortunately we have had some moderate rain showers this morning which has resulted in a minor loss of coverage on the lower parts of the mountain. The rain has stopped for the time being but is expected to increase later in the afternoon. Strong winds have forced the closure of the Nagasaka gondola however the Hikage gondola is operational. If your heading up today make sure you bring highly waterproof gear. The snow will be fast at least with the pick being mid mountain groomed runs. We expect heavy snow from mid mountain up later tonight.
Yesterday was awesome. It was the warmest day of the year so far, pushing up to around 18C in the shade at village level. The perfect sunny day meant that many took to skiing and boarding in nothing more than a t-shirt and boardies. It was really fun for all those involved and many beach themed parties sprung up across the mountain. Even the snow wasn't too sticky, perfect spring slush.
Looks like we will continue to have some spring temperatures into the foreseeable future with the freezing level dipping tonight but only to 1000m. Snow is expected from that level up. Conditions will clear later on Monday and Tuesday should be fine. From then onwards the forecast has been highly variable so any prediction is uncertain. But we do expect a weather event of some kind.