Ryuoo Ski Park near Nozawa Onsen
Snowy scenes from around Nozawa – Ryuoo Ski Park
Some nice white photos drifting in from yesterday after the dustings we got at higher elevations in the area.
This shot nearby Ryuoo Park with its winter blanket intact looks almost like you could take a run but pretty sure it is just a thin layer there at this stage.
The Forecast is for it to warm up a bit today and the freezing level to jump back up above 3000m where it will stay most of the week. A bit of rain expected tomorrow and Sunday before another cold front hits and some more dustings of snow expected from Sunday night. Anyway not worth waxing up the planks just yet but it sure looks pretty
Ryuoo Ski Park near Nozawa Onsen
A bit more info on Ryuoo Ski Park
Ryuoo Ski Park is less than 20km from Nozawa Onsen as the crow flies and is often our go to Mountain for some early season sliding. The top of the resort sits at a healthy 1930m above sea level with the bottom at 850m it has a huge 1080m of vertical just 5 meters less than Nozawa Onsen!
Due to the higher altitude it often gets early snow and they have just announced they are planning top open on the 25th of November so just one month from today! Like Nozawa they will close on the 6th of May so that gives a full 140 days of skiing!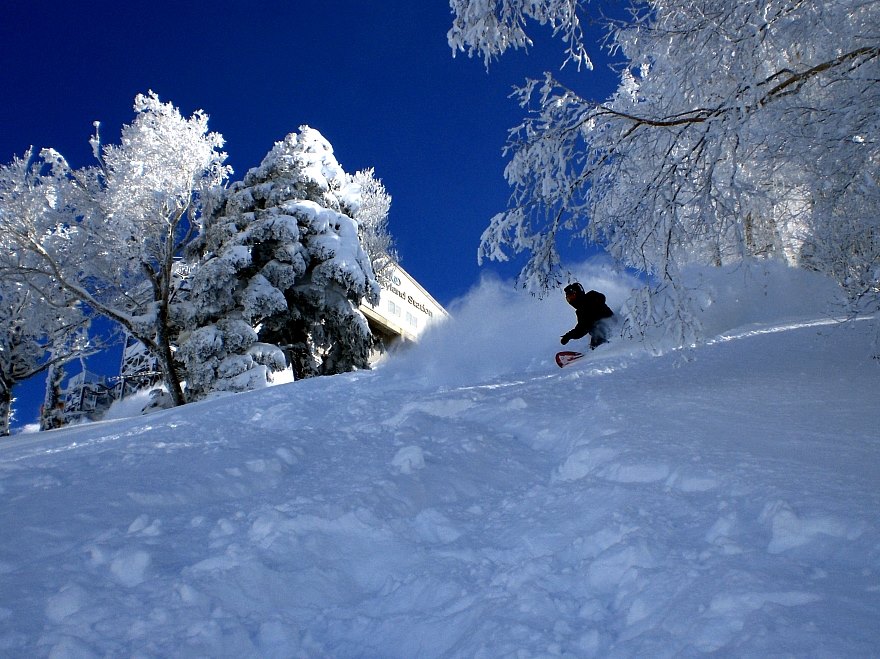 Statistics Ryuoo Park Ski Resort
1 Ropeway, 10 Lifts with 2 Quad, 8 Pair Lifts and 2 Single Lifts
Longest Run 6000m
17 Ski Courses
Steepest being 39 degrees
25% Advanced, 40% Internmediate and 35% beginner
Top Elevation 1930m, Bottom 850m, Vert 1080m
They have Two Terrain Parks and Night Skiing
Lift Pass Adults 4,500 a day Kids 2,900 a day
Cheaper if get multi days and special Family deals
Nearest Train Station is Yomase Station and then shuttle from there to the resort
In summary it is a very scenic resort and the ride up in the 166 person Gondola is pretty impressive with the sky deck at the top it gives awesome views all year round. As they focus on the young hip Tokyoites there is a good terrain park set up. The lay out of the resort is however not the best as is basically a long vertical line so can become a bit of a bottle neck on the weekends when all the students flock in from Tokyo. It is very quiet on the weekdays though and not many overseas skiers and boarders have ventured here as yet. We often head here early season if they get going before Nozawa Onsen,but sometimes we open about the same time. Will have to see what happens this season!