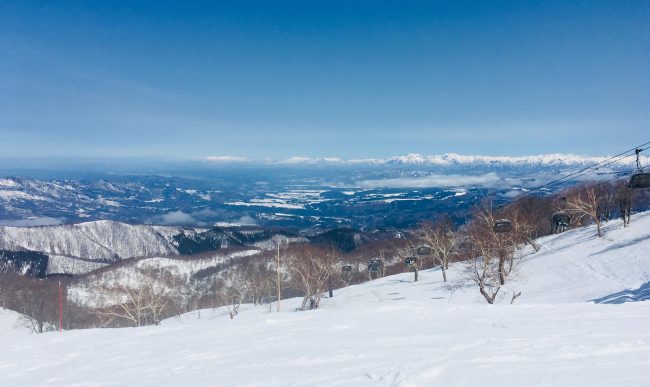 Clear Crisp day in Nozawa Onsen great touring weather.
Tuesday 10th of April 2018
Temp at Top:  -2 degrees
Weather: Blue Skies and Light Winds
Base at top:  190cm
Base at Uenotara station: 90cm
New snow since close: 0 cm
Glorious start to the day here in Nozawa nice and fresh on the face early and should warm up nicely throughout the day with this beautiful sunshine.
Snow pack will no doubt be hard early but should soften up once the sun gets to work. Great day for a ski tour and today is the annual tour from Shiga Kogen to Nozawa Onsen. A magic tour especially on a day like today with perfect views and some nice terrain. The tour is a full day taking about 8 hours.
Yesterday was a nice colder day on the mountain again with good conditions on piste and between the trees up top too. There were a few sticky spots but could avoid them with some planning.
Tomorrow looks like could be a windy one and maybe some rain in the evening but the following days are predicting more Vitamin D with sun and slightly cooler climate. Enjoy the spring skiing and consider the Shiga Kogen Tour for next season.