Ski-in/Ski-out Accommodation in Nozawa Onsen
Nozawa Cottage is set directly across the road from the slopes and is unique in more ways than one. Nagasaka Gondola is only 150 metres away from this ski-in/ski-out self-contained property, so that means more time skiing and less time getting to the runs.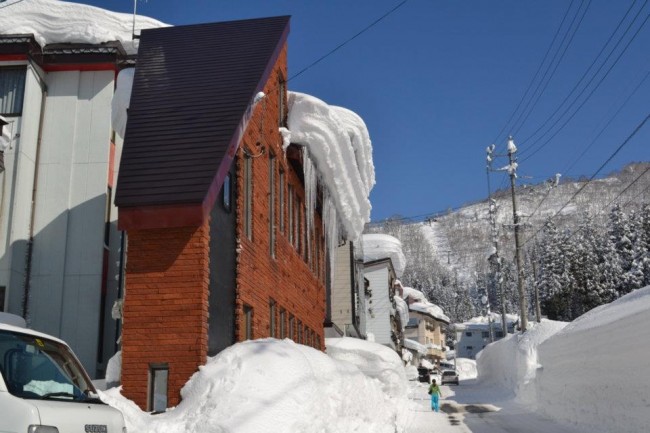 Having been recently renovated, the contemporary feel is given a twist by the building's individual triangular layout. Guests can kick back in the living room and look across to see skiers navigating one of the mountain's steepest runs. Likewise, you might also catch ski jumpers on the Olympic Jump Course.
Comfortable For 6, But Can Sleep Up To 8
There are two main bedrooms plus two small sleeping areas:
Bunks sleeping 4 in comfort
Main bedroom sleeping 2

A tatami room which can be used as a room for small children or a sitting room for the main bedroom.
There is also a loft upstairs for with a semi-double bed and awesome views to wake up to.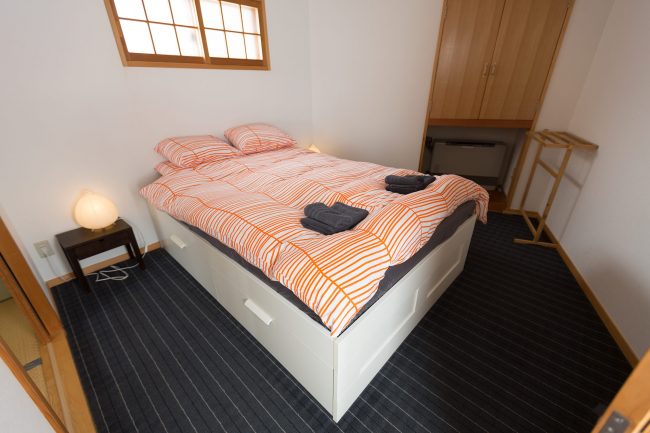 Nozawa Cottage is a fully self-contained ski-in/ski-out accommodation in Nozawa Onsen. Take a closer look here or send us an email at stay@nozawaholidays.com.
Some Other Great Options
In addition to Nozawa Cottage, there are also some other fantastic self-contained options which also enjoy amazing positioning. Nozawa House and Harvest House are both very close to the action and provide comfortable contemporary living spaces.
Nozawa House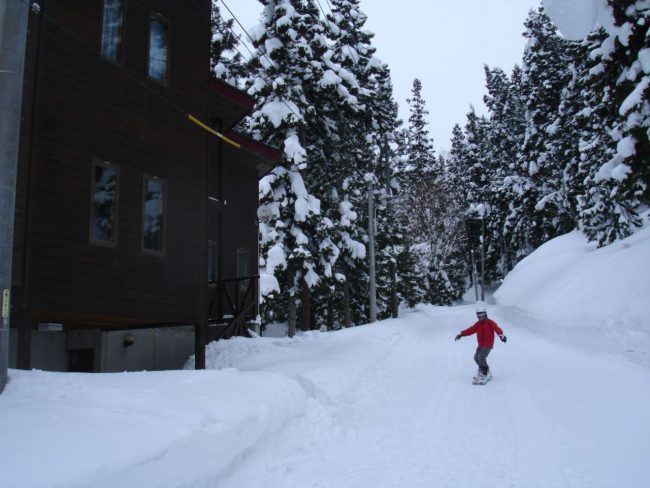 Nozawa House is unique in its own right. That's why many say it's the best position in town. This fully self-contained property is on the snow with no immediate neighbours. Guests can ski home and have only a short walk to the nearest lift. Likewise, it's also just a short stroll to onsens, temples, shrines and the town itself. All this means that you'll be feeling at home in your own little piece of the winter world at Nozawa House.
3 Bedrooms Sleeps 8
Nozawa House has three bedrooms and can comfortably sleep 8 people.
One bedroom has a double bed.
One room has two bunk beds.
One room is Japanese style with futons for bedding.
Guests will find a well-equipped property with a big bath that looks out over the stream below.
Nozawa House is fully self-contained. Take a closer look here or send us an email at stay@nozawaholidays.com.
Harvest House
There are many great things about Harvest House. It's an eco property designed with the environment in mind which has been fully renovated recently and is, therefore, one of the most modern self-contained accommodations in town. But perhaps what rates the highest mention is its proximity to the mountain. Harvest House Nozawa is just 100 metres from the main Nagasaka Gondola!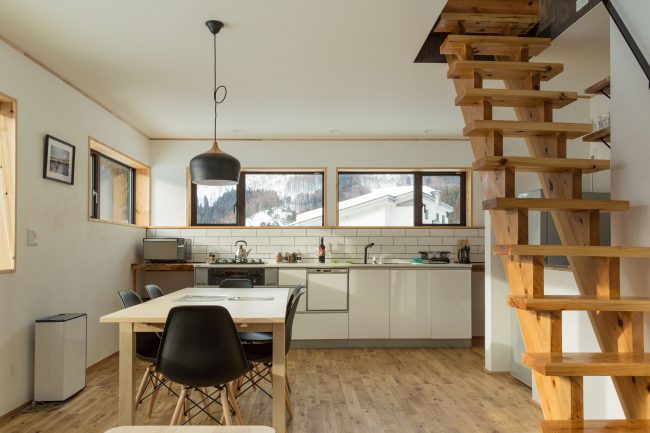 A beautiful, extremely well-positioned accommodation with a minimal carbon footprint, Harvest House is truly one of the best fully self-contained properties in town to enjoy a ski holiday.
Take a closer look here or send us an email at stay@nozawaholidays.com.