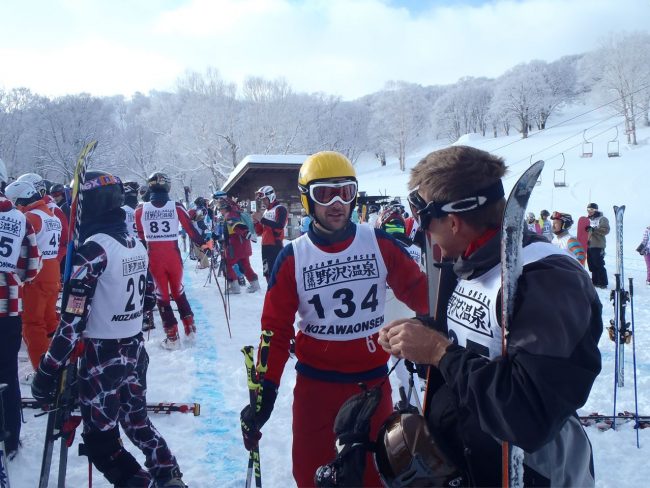 Big day for many of our regular guests Down Under today and hope you pick a winner! The race that stops Nozawa is under a bit colder conditions. Every year in mid March we have a Ski Race Nozawa weekend, which is open to all guests and locals to come and have a few fun filled days on the snow.
Top to Bottom Ski Race
The event is known as the Hatoguruma Cup and the highlight is Der Weisse Rausch a top to bottom free for all race from the top of Yamabiko to the bottom on a thigh burning 8km course. It was adopted from St Anton our sister town in Austria.
The Champ of the big Ski Race
Gab Sutter from Switzerland the manger of Villa Nozawa and Nozawa Central Rentals has taken out the race 3 years in a row now so may be time for someone else to step up. If keen to have a crack at it and ski Nozawa in mid March a great time to visit with no crowds and still great conditions then why not enter! Can also do the GS Slalom Ski Race Nozawa after.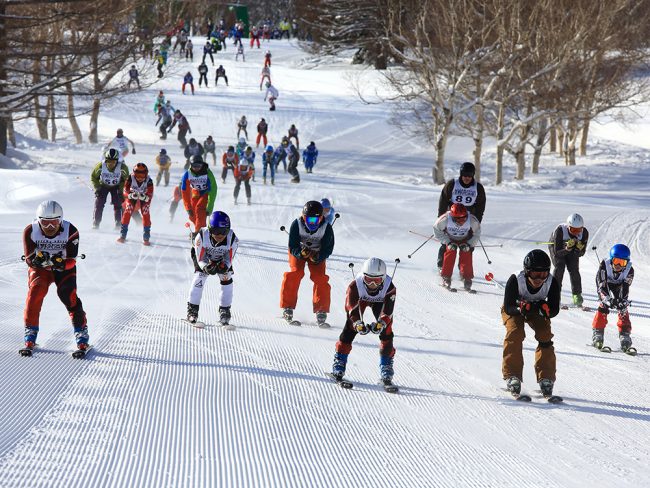 Ski Race Nozawa
Dates; The weekend of the 11th and 12th of March
Location; Nozawa Onsen, racers meeting and drinks the night before at Sparena convention centre
Cost to enter;
Der Weisse Rausch 2000 Yen ( Kids 1000 Yen )
GSL 3000 Yen (Kids 1000 Yen)
Both Races 4000 yen (Kids 1500 Yen)
So pretty good value for the taste of speed and maybe glory!
March Race Deal
We are doing some great deals on accommodation around that time too with 15% off on many places. Here is a great package to give you an idea
As you can see from the photos and conditions it is a great time to visit Nozawa
Race Week Nozawa Onsen
Mid March Special
Total 7 Nights
7 Nights Stay based on Twin Share Japanese Style Tatami Room with Share Bathroom Lodge Style
Healthy Breakfast Included Daily
6 Days Lift Passes
Use of all the Village Hot springs (Good for sore muscles!)
Entry to the Downhill Race
Half-Day Race coaching clinic
All just 74,000 yen per person (Approximately $AUD 970 at current rates)
Can book here https://www.nozawaholidays.com/bookings/
Better start training! Hope to see you on the start line….