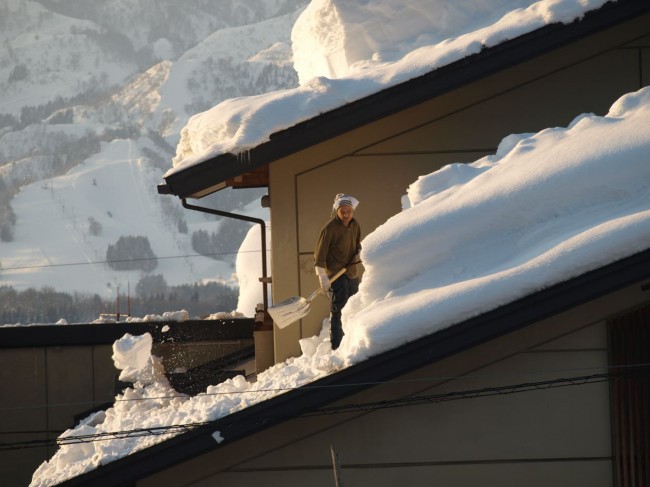 Base up top: 265 cm                  Temperature; -4 Degrees
Base at bottom; 180 cm
New Snow: 10 cm
After two relatively clear days in Nozawa Onsen people were wondering where the snow is! Today it has returned, not real heavy but spurts of decent falls and already about 15cm has collected. Think we should get another 15cm at least out of this system. Has been  a nice break to clear the decks before the next dump.
Then tomorrow is showing a blue bird day followed by a few days of moderate falls thru to the weekend.
This weekend is the famous Fire Festival on the 15th of January and already things are starting to get organized. Good friend of ours Kono san a former Ski Patrol boss is having a Toru or tower in the festival this year to celebrate the birth of his grandson. I just drove past and they were building it, looked beautiful. There will be two other Toru joining his so will be a big festival this year as the last few years has only been two.
Keep your eyes out on the slopes as on the 13th the gang will go up and cut down the trees and drag them down the slopes to build the main platform that will house all the 42 Year olds on the night. While the 25 Year olds protect the base from the onslaught of fire wielding locals.
Great conditions on the slopes today, with a bit of a cover on the groomers and bursts of sunshine earlier. Snow is set in now but by the looks. Have a great day and looking forward to the festival weekend ahead.