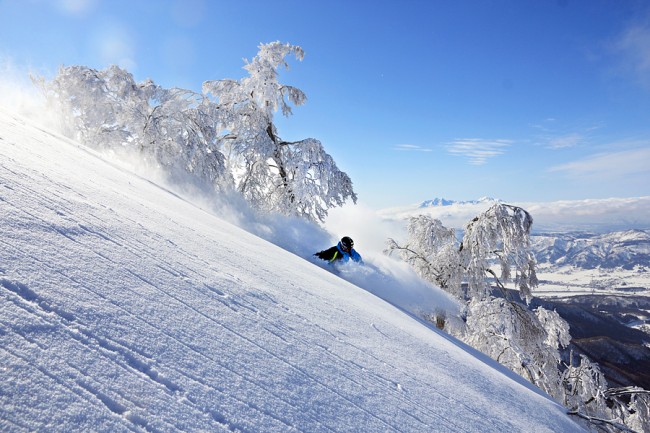 Base up top: 280cm        Temp Top; -4 Degrees
Base at bottom: 145cm
New Snow since close: 3cm
Light snowfalls commenced in Nozawa Onsen during the early hours of this morning and have continued without a break since then. So far we have had 3cm fall on the upper slopes of the resort, 2cm lower down. Just a dusting so far but snow is set to continue for the rest of the day hopefully building to a significant amount of fresh by the day's end.
Riding at the moment is dust on crust material and crowd levels a very low indeed. Visibility even up high is better than expected.
Yesterday was an excellent surprise. With only light snowfalls the night before and marginal weather forecast we were not expecting too much. By lunchtime the clouds moved away and we saw beautiful sunshine all afternoon. This caused base to soften into great spring snow, but still remain in excellent quality high up. With the spectacular backdrop of the Japanese Alps, it was a great afternoon for some skiing action shots!
The forecast looks to be very good indeed. We expect a clear, sunny day tomorrow, but following that we should see light to moderate snowfalls persist into the long range area of the forecast (at least 5 days).
Monday looks like it will be the pick of the days with very heavy snowfalls on Sunday night looking likely. Temperatures are set to be very cold, below sea level freezing point, nice! Everyone is very keen for the return of epic Japow!