Snow Season Nozawa Onsen – The Wrap and Outlook
The 2017/18 Season would so far be classified as a " Good Season" in Nozawa Onsen. Looking at the snow stats it is just an average season on snowfall. Not the hugest we have had by any means but not light on either. We don't get too many bad seasons in Nozawa, even in the worst snow season in 80 years we got to a 245cm base at the peak!
This season had something for everyone and most people visiting left with smiles on their faces. December gave us some of those massive 1 meter plus dumps but outside of that it has been more manageable and enjoyable 30cm average falls. The Powderhounds have been fed and the families have enjoyed some beautiful bluebird days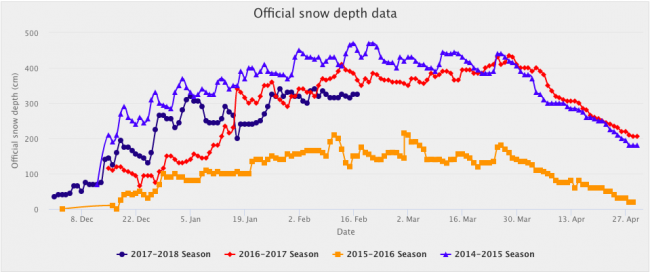 Snow Season Nozawa Onsen – December
We started off pretty big and had some amazing falls early on. The resort opened on November 25th it has been quite some years since we had a November opening. Even in our massive 2014/15 season the resort opened on December 7th.  If check the graph we actually were equal for snow fall with the big one on January 5th with a huge 320cm base. A month and a half later in mid Feb and we are sitting at the exact same level of 320cm up top.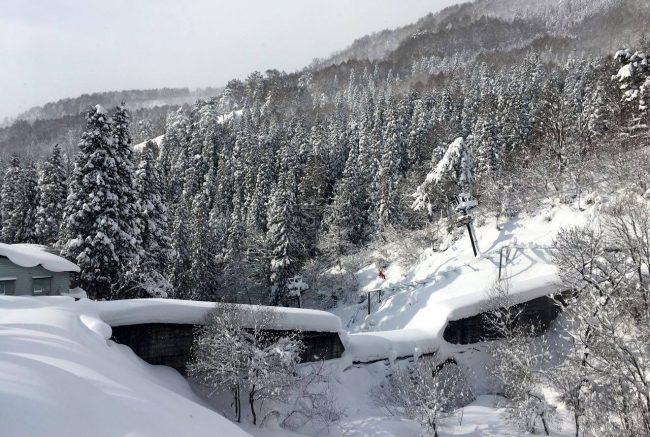 Snow Season Nozawa Onsen – January
We saw some good falls and conditions in January too but not as much as some other seasons. The Fire Festival in mid January is almost always dumping snow, this year we had clear skies and cold temps but not much snow fall. Which helped a lot with building the shrine but didnt do a lot for the snow base. We got it with an unseasonal warm spell in the middle too but it soon made way to some more good falls towards the end of the month which saw us hit our peak base for the season on January 28th with 345cm of snow recorded.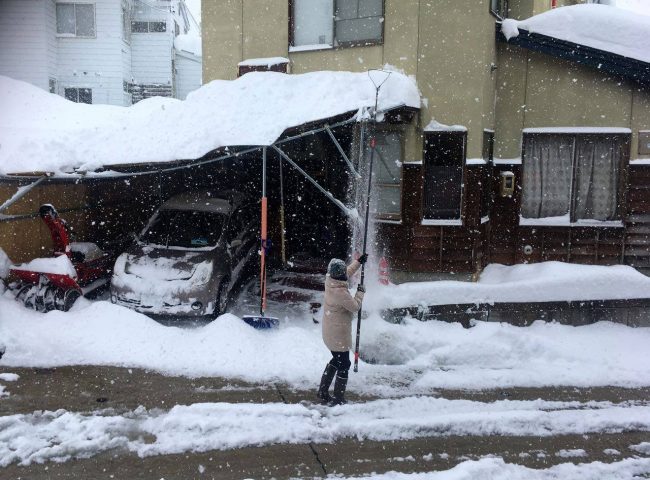 Snow Season Nozawa Onsen – February
Nozawa has been coasting on "Cruise Control" for most of February with regular little top ups and some amazing days in amongst it. Last week had a few seasoned campaigners leaving saying it was the best weeks skiing of their lives. I have not had to get on the roof too much so always a sign it has not been too heavy. Things stepped up a bit just yesterday with a 70cm plus dump in less than 24 hours taking the base up the top to 365cm the peak so far this season!
The question now is what can we expect for the rest of the season? Will we hit the 4 meter mark.
Snow forecasting is like picking a winner in a horse race it is a very hard game. Technology and weather models along with past history and gut feelings can go a long way in having a good guess but Mother Nature always likes to do things her own way and usually does. This season has been no exception we have been expecting 10cm and got 50cm a few times, other days have been expecting a solid dump and got clear skies.
The 9 day snow forecast can be pretty good and if nothing else helps keep us on the edge of our snow viewing seats. Looking at the numbers below it looks like we are in for a pretty nice end to the month with snow blessing us most days mixed with bouts of sunshine, not a lot of wind and most importantly cold temps.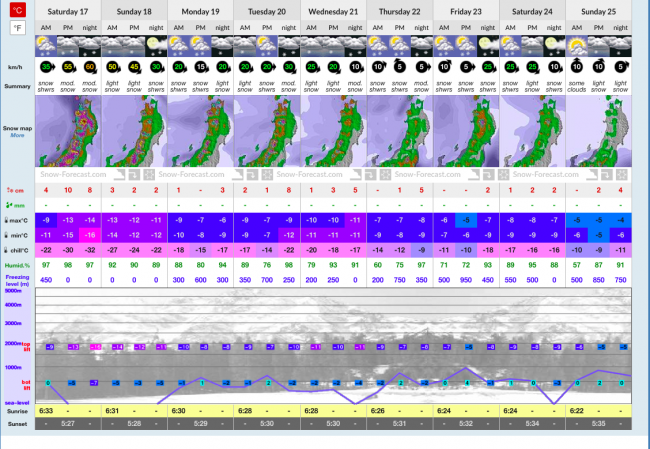 Probably one of the best forecasts of what is to come is from the Japan Meteorological Agency the JMA and below is their 1 month forecast for up to mid March. They are predicting a 40% chance we will experience above normal snow fall along the Japan Sea side of the Alps where Nozawa Onsen lies. Either way March in general is our favourite month with all the base here, some sunny days and still some good dumps in general.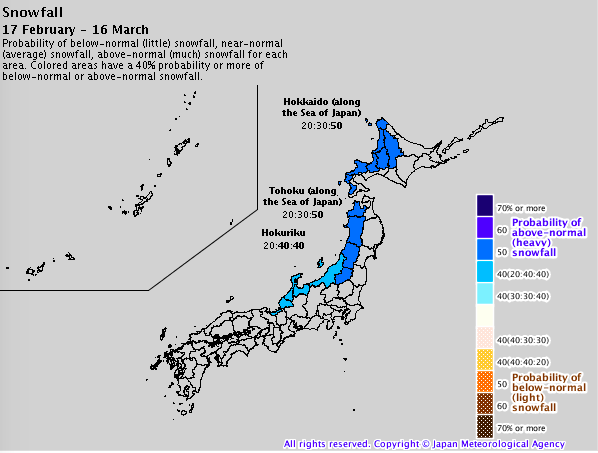 You can read some more on " Magic March in Nozawa" here March Magic Nozawa Onsen
Snow Season Nozawa Onsen – Spring Skiing
Always April – Spring skiing can be a lot of fun. The start of April is officially Spring skiing, most of the lower lifts are closed and the lift pass prices drop. Accommodation is at 20% off and it is a great time to bring the kids for the Easter Holidays.
Anyway here is to another great season and thanks to everyone for coming. The Ski Season goes until May 6th so we still have lots of turns to make and hope to see you this year or next in Nozawa. Arigatou Gozaimashita