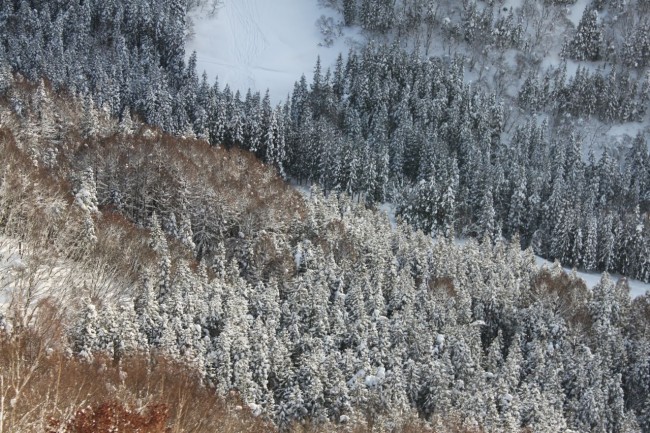 Base up top: 275 cm                  Temperature; -1 Degrees
Base at bottom; 190 cm
New Snow: 5 cm
The scene has changed today in Nozawa with the snow returning. Has been pretty light through out today with occasional big flakes floating down. On the slopes about 5cm has collected and it is a bit of dust on crust but should soften up as the day goes on and more snow joins the party.
Yesterday was nice on the slopes with almost no wind and that looks set to continue for a little while.
Just talked to a friend in Tokyo and he said it was even snowing in Tokyo today. Not collecting on the ground but some good fall, something that does not happen very often these days so great to see.
The outlook is for snow to continue here for quite a while in Nozawa Onsen getting heavy on Saturday night then pretty consistent all the way thru next week. So the powder times look set to return.
People travel from far and wide to check out Nozawa Onsen. Have had a bunch of guys all the way from Finland in town for the past week that is about as far as you can get and from all reports they have had a ball.
Check out a few of their finer turns here this was shot yesterday quite a few days after our last dump and they still managed to find some fresh tracks! Great work.