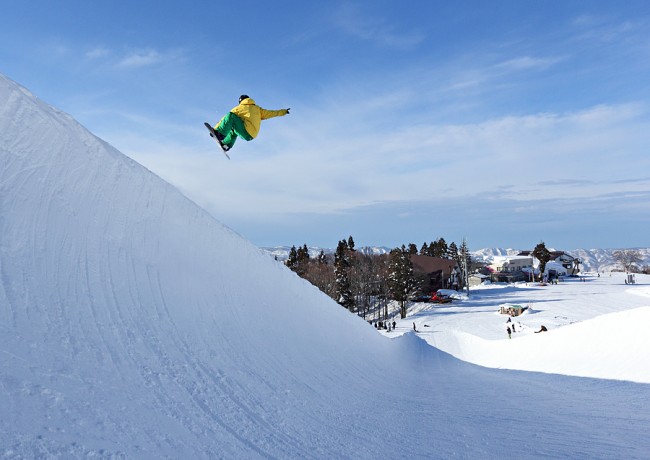 Base up top: 290cm        Temp Top; -7 Degrees
Base at bottom: 160cm
New Snow since close: 5cm
Weather; Snow showers
Passing heavy snow showers are producing the goods in Nozawa Onsen this morning. A particularly heavy one passed through between 7 and 8am delivering around 10cm to the lodge railing. Its not snowing at the moment but looking west we have some more dark clouds looming on the horizon that look very promising.
Yesterday saw beautiful conditions. Clear weather remained for most of the day with some interestingly shaped high clouds moving over during the afternoon. The skiing was fast and icy on the groomed runs- perfect for practicing carving technique at speed. The off piste areas even offered a few nice lines up high. It was a very good day for photos as well with even the Sea of Japan visible in the distance.
The wind looks like it will remain moderately strong for the remainder of the day before increasing in intensity tomorrow. Forecast to be blowing at 60km/h, don't be surprised if some of the top lifts are on wind hold. The heaviest snowfalls are expected to occur tomorrow night and temperatures will be very cold.
Keep in mind the avalanche conditions will be extreme over the next couple of days. Heavy snowfalls on top of an icy base will make the snowpack very unstable. Always take avalanche gear, dont ride alone and have the necessary training before skiing off piste.