Base at top: 170cm
Temp at Top: 6 Degrees
Base at Uenotaira: 100cm
New Snow since close: 0 cm
Weather: Sunny, some moderate wind easing and warm temperatures.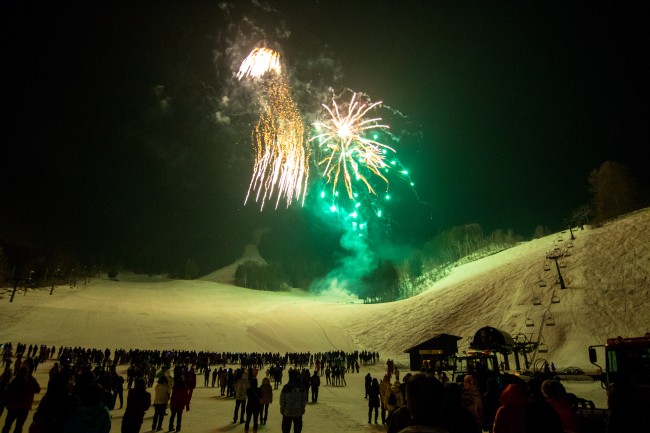 With the sun shining brightly and the warm temperatures, the good weather attracted a lot of local Japanese folk up to the mountain. Things were getting quite busy in sections yesterday, though crowds seemed to dissipate in the afternoon. The morning started off nicely, though the snowpack soon softened under the beaming sun. It was a beautiful spring day, though we're looking forward to winter conditions being back from Wednesday onwards!
Yesterday's Tomyo festival was a success. Everyone enjoyed watching the fire dancers while drinking hot sake or eating an ice cream, though the main attractions were the fireworks and the flaming torch run. All the lights were switched off and dozens of skiers and boarders rode down the Hikage run carrying fire torches.
The sun will be shining brightly once again today, though clouds are expected to move in by the evening with a possible chance of rain. Today will be the warmest day of this spell; The mercury will be dropping gradually back to normal cold temperatures over the next couple of days. We're expecting snow to start falling from Wednesday, and it's looking like it'll be fairly consistent right up until the weekend.