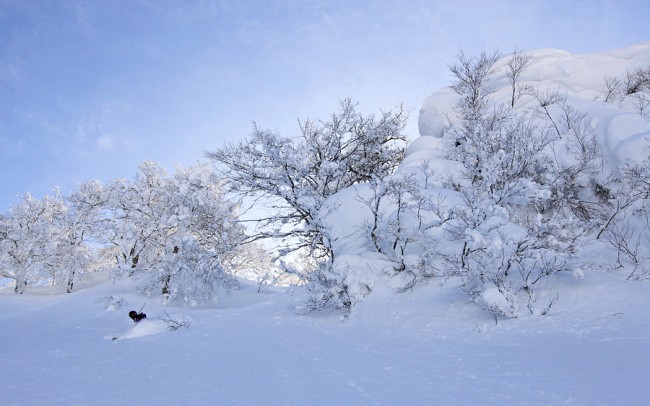 Base up top: 360cm Temp Top; -11 Degrees
Base at bottom: 190cm
New Snow since close: 15cm
It looks like we have some fresh powder falling in Nozawa Onsen this morning. With a rapid drop in the freezing level overnight the rain has turned to snow delivering 15cm near the summit, much to the delight of skiers and boarders.
We have strong winds about the peak so higher lifts may again be on wind hold. With the rapid freeze and fresh snow, slope stability is very low. Beware of the very high avalanche risk when venturing off piste.
Yesterday was not the best day on the mountain. Conditions were ok in the morning with firm and fast pistes early that quickly softened. Very strong prefrontal winds kept most of the top half on wind hold all day. During the afternoon the expected rainfall commenced and built in intensity after last lifts, becoming heavy. Luckily the solid base has resisted major damage.
With the worst of the weather behind us we can look at the forecast ahead without cringing. Nozawa Onsen is set to experience further light to moderate snow showers today and into tomorrow. Cold temperatures should accompany this snow until at least Tuesday. Monday should see a mostly sunny bluebird conditions.
Spring conditions are set to return around Wednesday with warm days, cold nights and mostly clear skies.