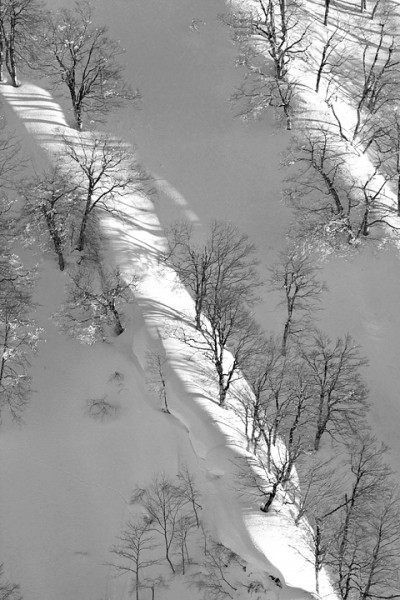 Base up top: 320cm        Temp Top; +4 Degrees
Base at bottom: 145cm
New Snow since close: 0cm
We have another clear bluebird day in Nozawa Onsen this morning. Visibility above 1400 meters is outstanding, but a strong inversion layer has trapped haze in the valleys limiting long range views. Overnight snowfalls did not eventuate, with only a dusting received on the upper slopes.
Riding conditions this morning were firm and fast, but surprisingly, not that icy. As the temperature warmed during the morning the snow correspondingly softened and at the moment we have slushy spring snow throughout. Snow conditions will be similar across the mountain with lowers slopes being more slushy and slower than the upper slopes.
Yesterday was another good spring day. We had firm and fast conditions during the morning which softened as the day drew on. The late afternoon saw a dramatic front pass through leading to increased wind speeds and some rain.
At the moment the forecast looks poor. We expect strong winds and rain tomorrow. Tuesday should see lighter winds but passing showers are likely to continue. Wednesday looks to have similar conditions. Further ahead we should see some improvements with a cool front Wednesday night that may produce some snow. Temperatures will remain cold into Thursday.