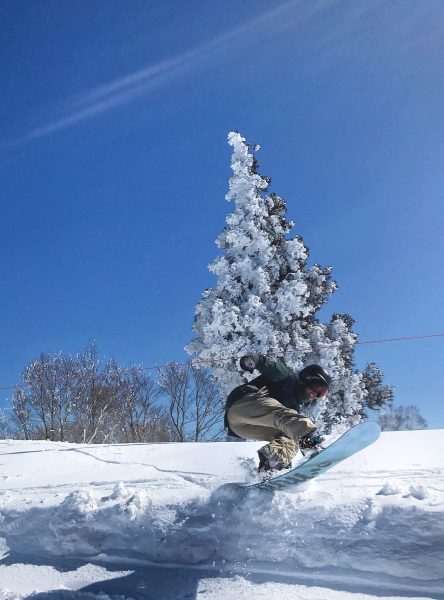 Soak up the sunshine on the slopes in Nozawa
Tuesday 13th of March 2018
Temp at Top: 6℃
Weather: Sunny
Base at top: 275cm
Base at Uenotara station: 195cm
New snow since close: 0 cm
Spring time in Nozawa is Easy
Another beautiful clear day here today in Nozawa with the sun shining and blue skies. It was fresh this morning when went for a stroll but you can feel the warmth of the sun coming thru. We are looking at some perfect Spring Skiing conditions for the next few days with light winds and plenty of sunshine.
Nothing wrong with that as mid March is typically springtime. It did come a little earlier than normal this year but the season also started earlier with snow in November and the resort opening on November 27th this year the earliest date for a number of seasons.
Yesterday was magic up on the mountain with the dusting we had and cold temps up top the snow under foot was terrific. It did get a bit slushy at the bottom but still fun on the boards. Crowds have also subsided around the village and was able to get in to one of my favourite restaurants in town Akibitei Okonomiyaki the big Japanese like pancakes with ease. Had no chance in January and February. Be sure to drop in and see Saito san and his amazing 85-year-old plus parents for a delicious dinner while in Nozawa.