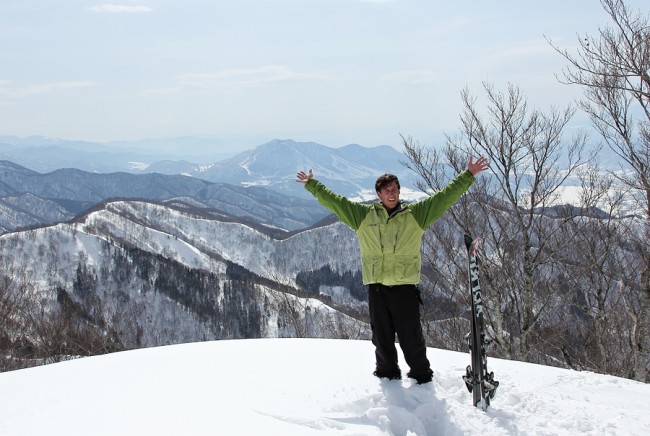 Base up top: 285cm        Temp Top; +4 Degrees
Base at bottom: 105cm
New Snow since close: 0cm
We woke to a cool partly cloudy morning in Nozawa Onsen. Since then temperatures warmed from -4C at the summit and we now have positive temps across the mountain. As a result the snow will be slushy; but less so at the top. Winds are light and crowds are also quite low for a Sunday.
The picks today will be the challenge area pistes earlier and then Yamabiko after lunch with the two natural pipes in fine form. The terrain park will be good with the slushy conditions. We expect clear sunny conditions to last the day.
Yesterday was cold and as a result it was icy the majority of the day, both on the groomers and through the trees. Fast testing conditions challenged your ability to hold an edge and made for a thrilling day on the mountain.
Looking at the forecast ahead we should see a gradually cooling day tomorrow, with possible decent snowfalls tomorrow night. Around 5-20cm is expected from this system. Beginning Wednesday we should see warm spring conditions until Thursday night when another cool front is forecast to pass over, with possible snow showers. Another run of sunny spring days is expected following this.
This will be my last report for the season as tomorrow unfortunately I fly back home to the real world in Australia. What a season it has been though! We saw countless deep powder days through January, especially the second half. Then from around the 10th till 26th of February we had some of the best weeks of the season with consistent powder and very cold temperatures. That being said the season is by no means over with over a month before the last lifts spin. A deep snowpack at higher elevations will ensure great riding until this time.
I hope all Nozawa Onsen followers have enjoyed reading these reports and viewing my accompanying photographs. It has give me great pleasure writing and taking them.
I would also like to take this opportunity to thank all who have skied or boarded in Nozawa Onsen this season, both staff and tourists. It's not only the epic skiing that we've shared, but meeting such a friendly, happy and genuine group of people are my most cherished memories. You guys have made this time a highlight of my life.
Thanks all and see you in Nozawa Onsen again this December. Shaun Mittwollen.