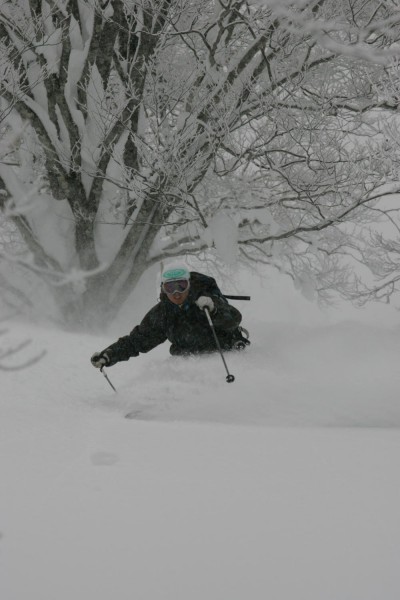 Base up top: 280 cm                  Temperature; -8 Degrees
Base at bottom; 190 cm
New Snow: 30 cm
Has not stopped snowing in Nozawa now for 24 Hours. The magic foot we mentioned yesterday has doubled with 60cm falling in that time. We are going to have to start calling it the magic 2 foot! Will be more amazing deep powder conditions for the brave today.
It is blizzard conditions outside at the moment and just heard they have temporarily closed the Nagasaka Gondola due to high winds. The Hikage is operating so can still make your way to the top for fresh tracks.
Yesterday was dumping all day and most runs groomed or otherwise were powder runs by lunchtime. Like today visibility was not great but as long as you had good gear could make the most of what Mother Nature was serving up.
Snow is set to continue throughout today then tomorrow should be something special with Sunshine expected in the morning followed by more snow from the afternoon.
After that looks like we may get a bit of a break in the snow before a heavy dump again next week. Will hopefully give us a chance to clear some of this snow and enjoy the amazing conditions! The view from my house has now well and truly been replaced by a large wall of white and is quickly turning into an igloo!
All this base is a good thing and means we should be in for a long season. Although it is still early days with almost a 300cm base now I would expect we should have nice top to bottom conditions right thru to the end of March.
We still have good availability for March at this stage and will be a fun month with quite a lot of people taking up our 'Live the Dream' 30 Day offer over March and April. Works out as little as just 4000 Yen or $50  a day for accom, lift pass and breakfast! Also very little crowds and a whole lot of fun!
Check out some of our specials here and drop us an email if keen to join us for a magic March in Nozawa Onsen.
http://www.lodgenagano.com/accommodation/deals/